Wolfsburg – Science center
The train ride to Wolfsburg was a bit unusual because we had to change twice (at Uelzen and Gifhorn). Uelzen is a really interesting train station because it was modeled after the ideas of Friedensreich Hundertwasser, so the station is Uelzen's main sightseeing spot!
Wolfsburg has a quite small station for a town with over 120.000 people. The VW factory was already visible from the train station and after we got to the exit, we could already see the phaeno. Still I had to go to an electronic department store in order to buy a couple of new DV tapes for my camcorder. And yes, it was my old, but trusty Sharp Viewcam with a less-than-capable battery. But you really need a video camera in a science center because there are a lot of things moving.
The phaeno is a so-called "hands-on-museum" meaning that you can try out (almost) all exhibitions.
Live painting by a robot
Each demonstrates certain aspects of physics, biology and chemistry. There is even a tech lab where you can construct your own machines. The science center has an interesting architecture and is much bigger than Bremen's "Universum". For example, I tried out the robot bugs, a robot, controllable with two joysticks. There was also a thermographic camera and a flash that freezes your shadow on the wall – small version of the necessary device was available in the museum shop.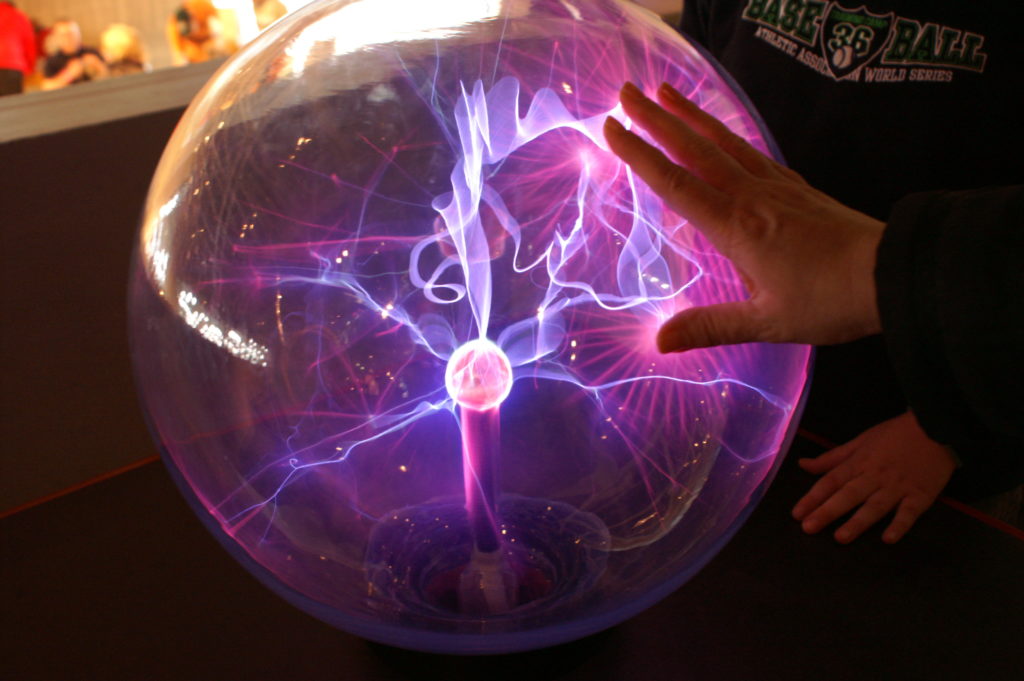 At that time, there was a special exhibition called Phenomena: Two industry robots played DJ and another one was drawing portraits. In a separate place outside the main exhibition hall, they showed pieces of game history in the Game Lab: Space War, Pong, Space Invaders, Super Mario Bros. … They had so few visitors (at least at that time), that a photo journalist begged us to stay long enough until at least two more visitors would arrive. Well, she wanted to take pictures that looked like that place was half-way popular. There would probably be more visitors if there were more obvious signs.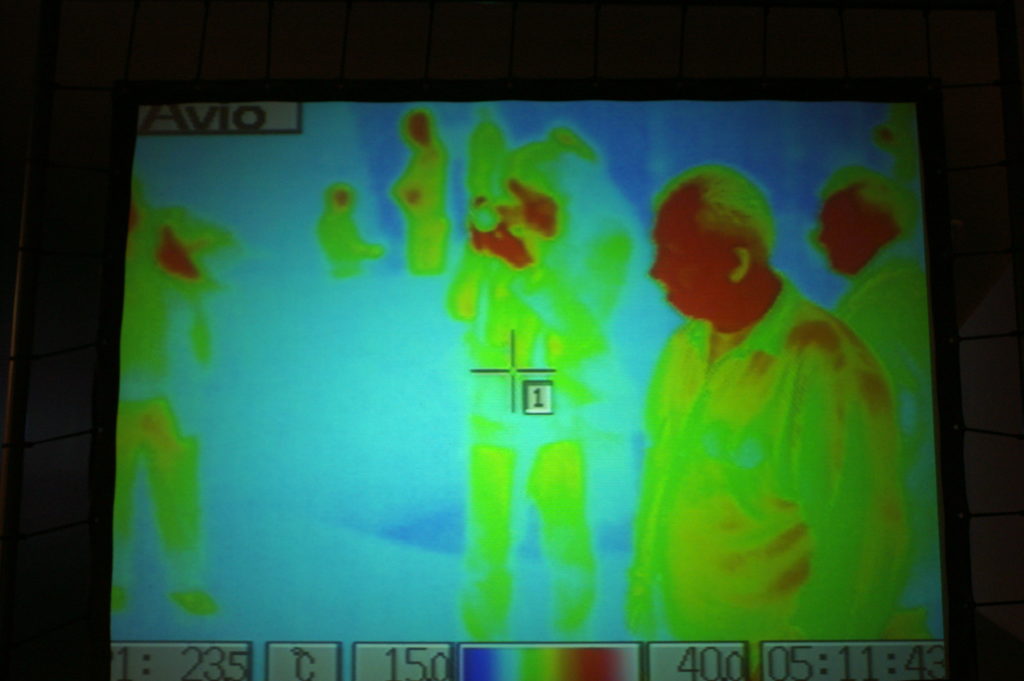 Fun with the heat camera.
I played Super Mario (keyboard-controlled, gah!) while my mother defended Earth in Space Invaders. After the photographer left, I played against her on a Xbox console. I don't particularly like the Xbox and I'm not much fond of racing games (except Metropolis Racer and Crazy Taxi) but still I won, despite crashing the car a few times. One employee was really starving for a nice talk with visitors – can't blame him, it must get boring in that place especially if you are not into video games. After that we didn't went to the Autostadt (too expensive) and took a look at the Wolfsburg. It's an old castle but not a particularly interesting one in my opinion.
Traveling back
Then we visited the phaeno museum shop which was so-so and took the train back to Hannover. This regional train arrived 25 minutes too late! So it was bye-bye connection train but on the bright side there was enough time for a quick snack.
The train to Hamburg (via Uelzen) was used by a few HSV fans who got back from the HSV vs. Bielefeld match (it ended in a draw). They got quite noisy, sang a few songs (mostly about the incapability of other cities) and after they ran out of football songs, they used political songs against the USA in Vietnam and Kambodscha or the stationing of Pershing rockets in Germany. So reeeeeeaaaallly old stories 😉
The people in Wolfsburg are always happy. Guess what is the reason?