Temples in Busan: Samgwang Temple (Samgwangsa)
Samgwangsa (Sam Kwang-sa, Korean writing: 삼광사) in Busan is overshadowed by the two other big temples, Beomeosa (범어사) and Yonggungsa (해동용궁사). Both are inarguably more picturesque: Beomosa because it's in the mountains and an excellent starting point for a hike, Yonggungsa because it's next to the sea.
Samkwangsa is next to the typical sprawl of anonymous apartment complexes on the slope of mount Baekyang. It is probably the most central of the three temples if you start from Seomyeon. That is, if you can find the right bus. I couldn't, at least not using the description from the tourist page. If the people who wrote that page would've spent five minutes more time on the descriptions, they would've helped thousands of tourists.
The best connection to the temple is by taking bus line number 15 which stops right in front of it. Bus lines 63 and 81 stop near the temple but there are no signs pointing to the temple from the bus stop.The temple belongs to the Cheontae Order of Buddhism. It was built in 1982 to accommodate the followers of SangWol WonGak which explains the massive size of the buildings. If you enter the temple grounds you will see a five-story building on your right, the Beopwha Sammae Dang.

Equally impressive is the nine-story Daebo Tahp (대보탑) which was completed in 1997. 53 buddhas and four guardians are carved into it. On the top you can see a gold-plated lotus flower. The total height of the Tahp is 30 meters.
Around the tahp is the base where you can see scenes of the life of Buddha, devas and the twelve animals of the Asian zodiac.
On the left is the Jikwanjon, which can accommodate more than 100000 people. While traditional looking from the outside, it's a modern assembly hall on the inside.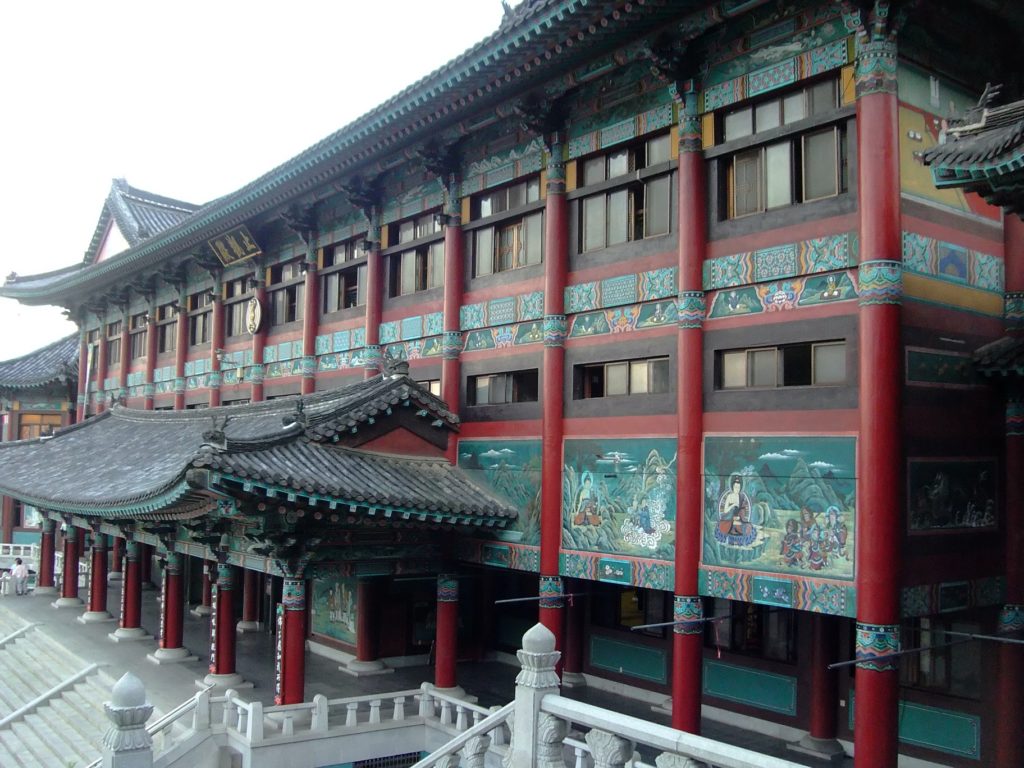 Samgwangsa is a modern temple housing lots of classes and cultural programs. The best time to visit is obviously the Lotus Flower Festival, Buddha's birthday. That's also true for the other great temples of Korea. This year I spent Buddha's birthday in Seoul, next year I want to visit Busan during that time.