Tamashii Nations Tokyo: Freddie x Kamen Rider
Tamashii Nations is a division of Japanese toy maker Bandai and creates quality figures. Their flagship store is in Akihabara, the mecca of figure fans!
The brand has since expanded worldwide, with plenty of distribution partners outside Japan. But visiting the flagship ship is something different – and I was figure hunting anyway in Akihabara on that day.
Tamashii Nations flagship store
Standing in front of the store, you'll see that they accept every payment system under the sun. Admission is free of course. The store occupies three floors, dedicated to exhibitions, events and the main floor. On display are the latest figures, exclusives and prototypes. This includes the brand S.H.Figuarts, which I'm more familiar with.
S.H.Figuarts not only turns Japanese brands into figures, but Western ones as well. When I visited the store, there were mostly figures based on Japanese manga/anime though.
Proving that Hello Kitty knows no boundaries in collaborating with other brands, Hello Kitty teamed up with Gundam. The brands celebrated their 45th and 40th birthday, respectively. Other than that, there were extra shiny Saint Seya figures and various figures based on the long-running mecha series Mazinger (マジンガー) and Gundam (ガンダム).
Freddie x Kamen Rider x Gundam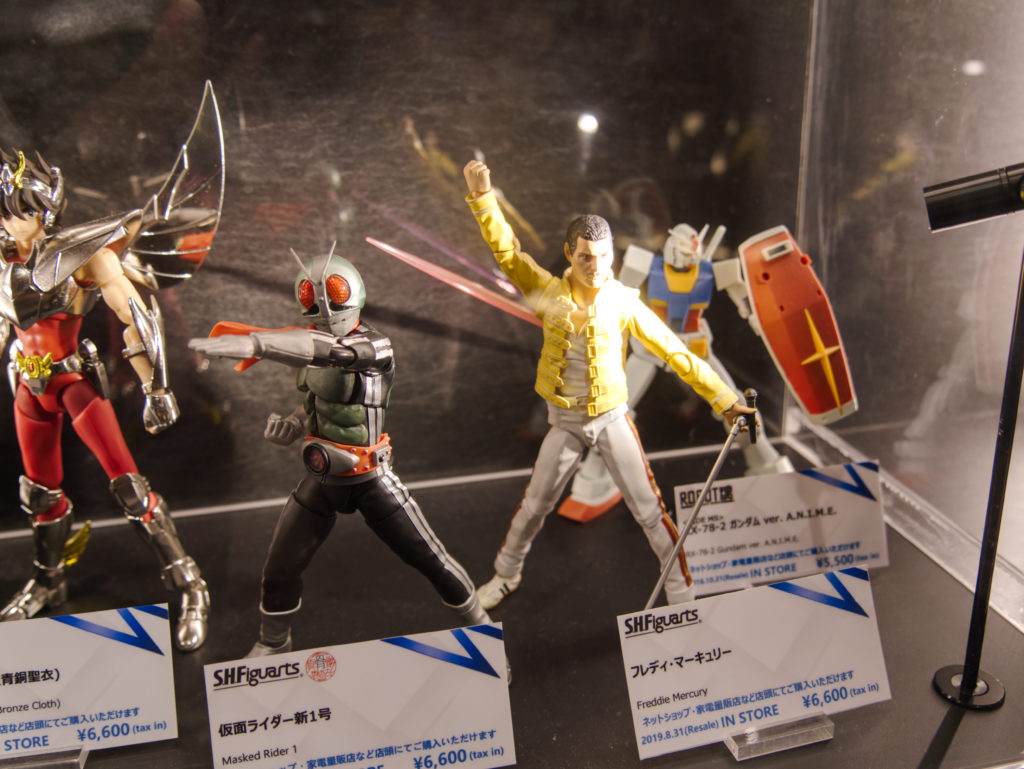 My favourite figure collection on display was a bit smaller: Kamen Rider 1 (Masked Rider 1), Freddie Mercury (!) and an RX-78-2 Gundam. Grouped together like they were posing in front of the foe of the week, I wish this would become a crossover anime. The Mercury figure is based on Freddie Mercury during Queen's final tour and comes with exchangeable faces and a microphone.
S.H.Figuarts also released a Live Aid Freddie Mercury – Queen's Live Aid performance is the finale of the Bohemian Rhapsody movie.
There's also another reason to pair figure Mercury with other brands: There are very few figures of the other band members. Funko did a whole set, but the less said about Funko, the better.
Tamashii Tanoshii?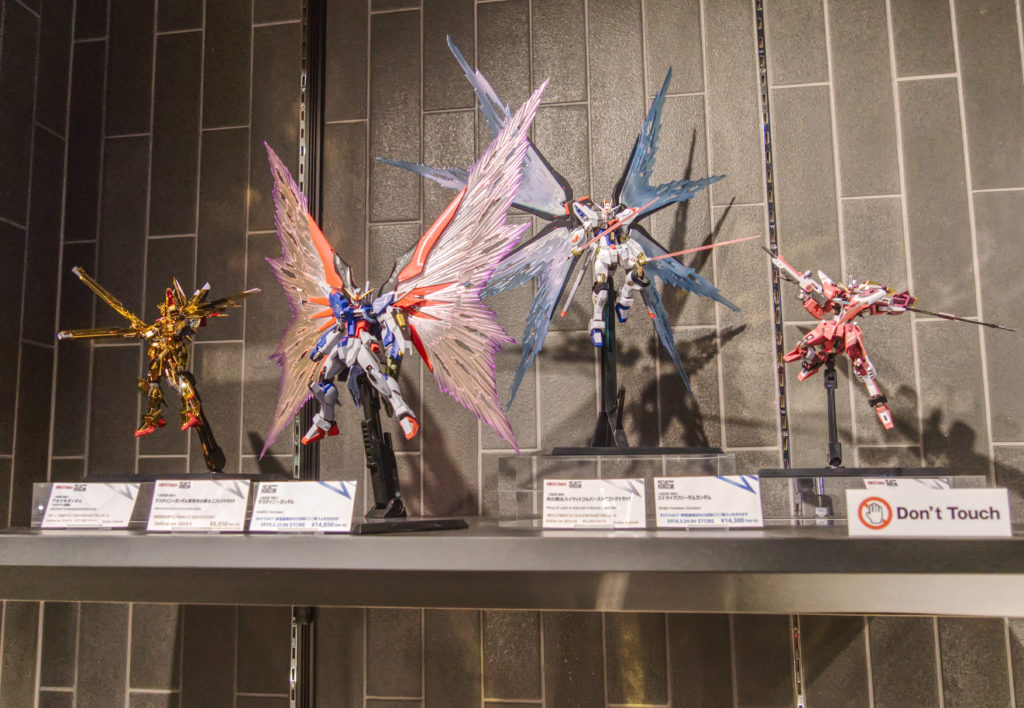 The flagship store doesn't have a massive collection of figures like many stores in Akihabara. Tamashii Nations Tokyo may be compared with an Apple Store: It's not about selling the most products, it's about brand presentation.
Tamashii Nations Tokyo location + more info
Website (Japanese/English)
https://tamashii.jp/tokyo/
Location
HULIC & New AKIHABARA B1F – 2F
Closest train stations
Akihabara Station (JR, Tokyo Metro)
Suehirocho Station (Tokyo Metro Ginza Line)
Opening hours
Weekday 12:00-20:00,
Sat, Sun, holidays 10:00-20:00