When I decided to pick up Korean after having learned Japanese, I decided on Yonsei University. The university's Korean language program has a good reputation, much like Naganuma School's Japanese course. One of many things that are different compared to Naganuma are the contests. I can remember only doing one contest (haiku writing) and even that one was just for fun.
Yonsei though loves contests reminding me much of many Korean dramas that introduce a contest at some point in the story line, usually just for the sake to stretch a thin plot. Anyway, if you want to see museums or visit Suwon you have to do it yourself since only the last class (level 6) will do a graduation trip.
Instead of class trips, we get contests. One of them is the essay contest which was held in October.This is one of the nicer contest because you don't have to perform anything in front of others. There are actually two contests, one for poems and one for essays. The level 1 students do a campus tour instead. The topics were inside golden-colored spheres which had to be hit to open. It took a few minutes until they were open.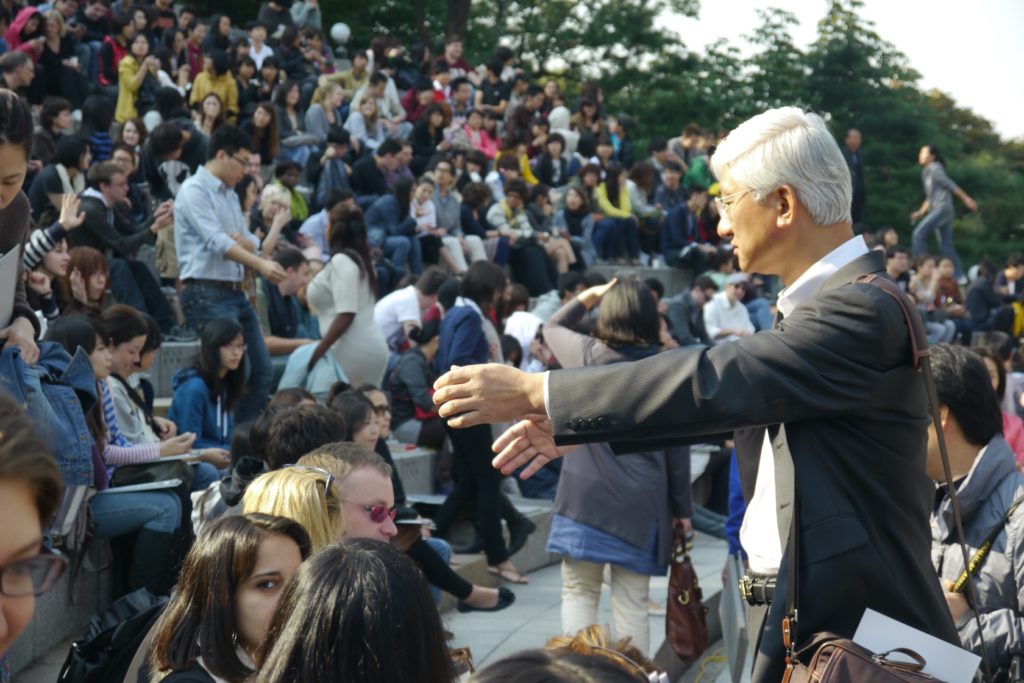 The contest seems to be open to non-Yonsei students as well. Photographers were there and they had specific requests. I suspect that they didn't want to have too many Asians on one picture in order to give Yonsei KLI a more international appearance. Of course most students come from Japan, China and Taiwan.
The essay contest was held at the amphitheater, there were some barely audible speeches before we had to start writing. We had two hours time.
Usually contests and school events run from 9am to 1am, just like regular class. However the essay contest is longer. After handing in the essay there was a lunch break, followed by some performances (taekwondo) until they finally announced the winners. I think most people left before.