Zasshi-Online: Reading Japanese magazines and books on the iPad
I love Japanese magazines and books. There are magazines dedicated to everything from toy camera photography to nail art. I own a book that's about drawing with a three-color pen and at a book shop in Koenji, I once saw a tourist guide book dedicated to the stations of Tokyo's Chuo line!
Much less developed than the print industry are ebooks. Although Sony was one of the first companies to produce ebook readers, the Japanese ebook market still suffers from a lack of content. That's the reason why various scan services are so successful: Japanese apartments are not very big, so if you can save space by digitizing your library, why not?
I wouldn't do it with all my books but for some I wouldn't mind having an ebook instead. I was looking for Japanese ebook content for my iPad and surprisingly there are a few services which offer magazines and books for digital reading. Today I'm going to introduce zasshi-online.com (zasshi means magazine). This service works with foreign credit cards and the iPad/iPhone. They also offer an Android App and you can read all the content online on your Mac/PC if you want to.I don't have an Android device, so I can only describe the iOS app. The app supports in-app purchases meaning that you can buy all ebooks and magazines using your Japanese iTunes account. You can open one without a Japanese credit card, but then you will need Japanese iTunes gift cards to buy something. They are available online from companies such as jlist.com, but for a higher price of course. On the website of zasshi-online, you can pay with foreign credit cards. There is no option to select a credit card company when buying content. I tested mine and it worked.
The device compatibility (対応デバイス) is shown for every ebook. Some publications are only offered in print. For the print and some online editions, the website sells subscriptions. The price for the electronic one is usually below the print edition: Mac Fan costs 880 Yen at the news stands, while the electronic edition is only 600 Yen. Purchased content can be downloaded to all supported devices and read offline.
Surprisingly most of the app and the description in the App Store have been translated into English. This is not one of the odd cases where a Japanese company prefers English over Japanese either: If you change the system language of your iPad, the app will be in Japanese. The website is Japanese-only though. Next to every publication, you will see a link in a blue box (立ち読み). You can read the first few pages of every publication, usually the table of contents and some articles. This is an excellent deal if you just want to read some Japanese articles and don't bother much about the topic of the articles. Downloading whole issues takes a while. Once downloaded, paid content doesn't depend on an internet connection. No downloads are offered in the web browser so if zasshi-online closes down, your only copies will be on your iOS or Android device. Imagine if all your books you bought at Borders would suddenly disappear because they closed shop!
The reader itself is simple enough and works in landscape and portrait. Readability is quite good and there's a zoom big enough to magnify tiny text boxes. It's not possible to select/copy text, so in order to look up words you need to count the kanji strokes or search for radicals. A thumbnail bar of all pages can be displayed at the bottom. Swiping feels natural with the app but awkward online, that's why I prefer the app.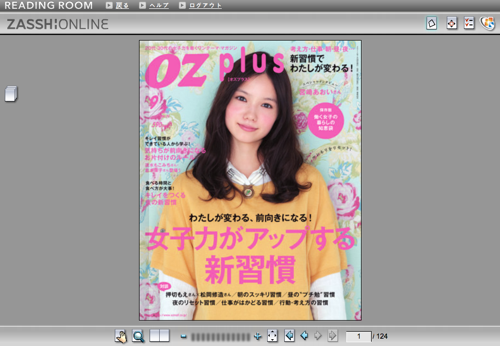 There are some very popular magazines missing from the store. This is a selection of the magazines available digitally: Cheek, ecocolo, Esse, Get Navi, GQ, Mac Fan, MacPeople, Men's Ex, OZ plus/magazine, mobileASCII, papier, PC fan, Spa!, Tokai Spy Girl (odd name for a women's magazine) and Vogue Japan. They have back numbers as well. The ebook and comic selection is much smaller.
Overall, it's not a bad service and at least the iOS app is decent. It's unfortunate that they won't give you a PDF to use in the reader you want. Also you'll find out that not all the magazines (like 25ans, Men's Egg) you want are available. Other sites I checked out don't offer them either. I'll write about these sites soon.