Cat Cafe in Tokyo: Don't wake the cat!
Inokashira Park (near Inokashira Koen or Kichijoji station) is my favorite cherry blossom spot. I just love the sakura trees around the big pond and then there's a zoo and the Ghibli museum nearby too.
I went to the park with a friend. If you come from Kichijoji station (Chuo or Tozai line) you will usually walk down a small street with various clothing stores and cafes which leads directly to the park. Originally we planned to have a coffee at Starbucks, but it was full. Luckily there is also a cat cafe near Inokashira Park. It's on the second floor and the atmosphere inside is very calm.
A cat cafe is a cafe with cats – they're quite popular in Tokyo since cats are not allowed in many mansions and apartments. It's also hard to take care of a pet if you are working overtime a lot.
The cat cafe I visited (Mellow Cafe) had strict rules and other cat cafes may vary. You have to choose a table first. If the cat comes near the table it's ok to pet it, but you are not allowed to change seats just because the cats are at another table. That's usually not a problem because there a couple of cats and if you stay for an hour or so you'll get multiple visits. Another rule: Don't wake up the cat!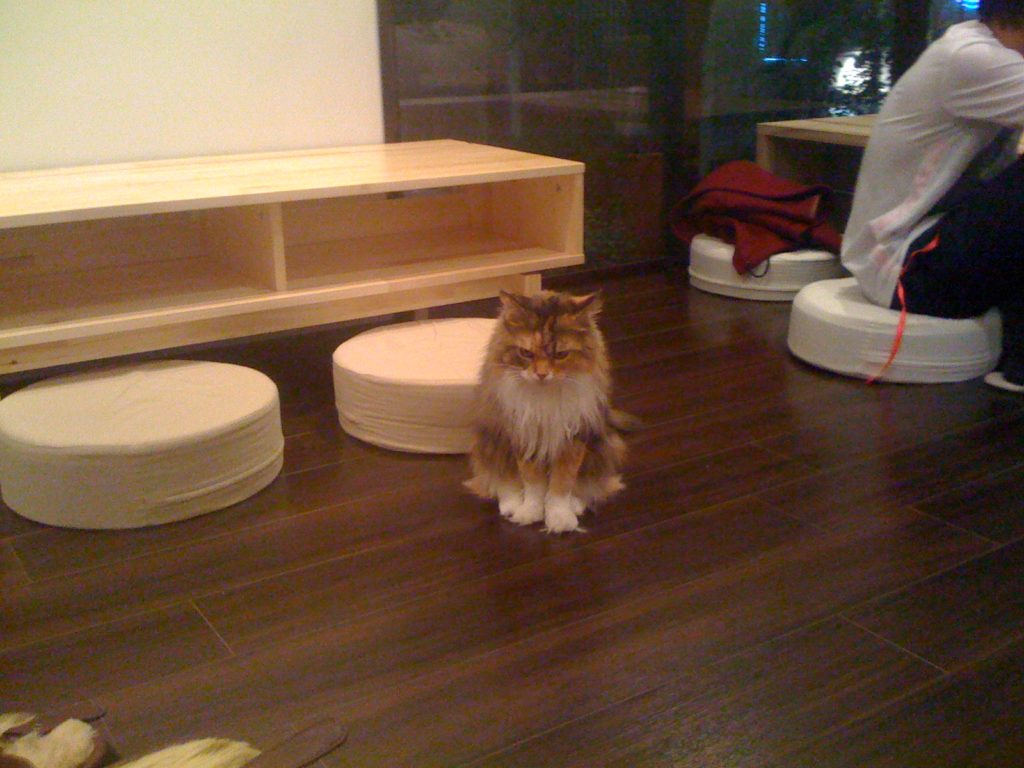 This proved to be quite challenging since my friend knows cats very well and managed to pet the cat until it fell asleep – on her hand. "Furball 1", as we nick-named the cat, had a hard life like most of the cats. Their former owners didn't treat them well. That's another reason why the rules are so strict.
The atmosphere in the cafe was very calm and soothing and it's an interesting break from the busy street outside.