Ferry between Busan and Fukuoka
Fukuoka is closer to Busan than to Tokyo and my plan for the school holiday was to combine a trip to Busan with one in Fukuoka. When I stayed at the Zen Backpacker hostel, I told the owner that I plan to go to Fukuoka. He then asked me if I had a ticket. Since the online reservation system still showed many free seats, I told him that I'll buy it at the port. Then he made a call and found out that there were only two seats left. Oops.
When I arrived at the Busan International Ferry Terminal, it didn't look that crowded. Similar to a plane, you need to be at least there one hour before departure for the check-in. There may be additional taxes on both ferry terminals for fuel and whatever fees the creative people in Japan and Korea can think of. While there is supposedly a weight limit for you baggage, I've never seen them putting anyone's luggage on a scale. In fact, they don't even have a scale at both terminals. You just carry your luggage onto the ship.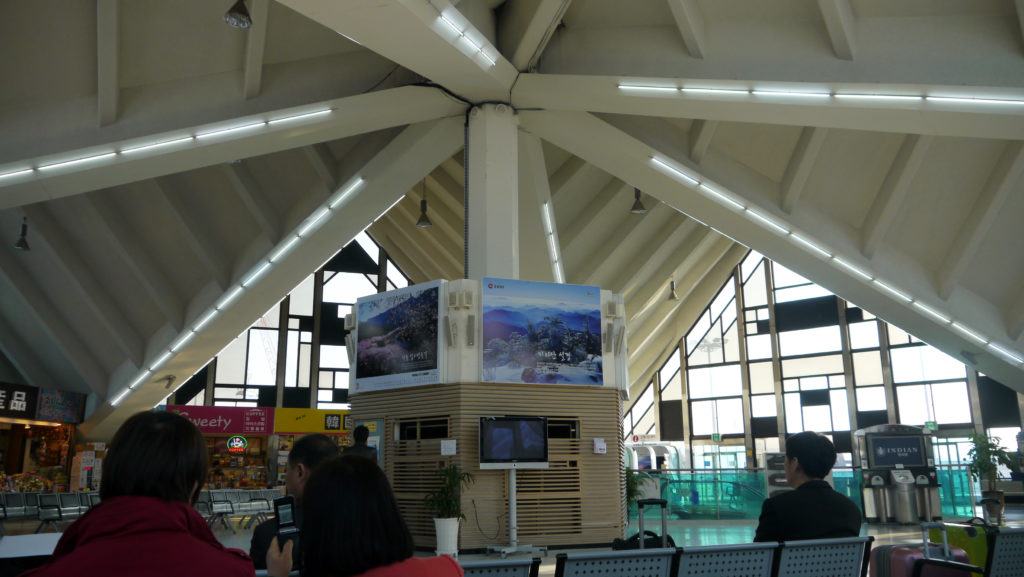 The International Ferry Terminal isn't very big either. There are two ferries connecting Busan to Fukuoka. The Beetle2 (operated by JR Kyushu) and Kobee (operated by South Korean company Miraejet) hydrofoil both take about three hours. The slower New Camellia takes six hours.
When the ferry was leaving Busan and all passengers were on board, I could see that the supposedly booked-out ferry was almost empty of passengers. Maybe twenty percent of the seats were occupied. It may have something to do with the earthquake on March 11 or more likely the disaster at Fukushima Daiichi. However, Fukuoka wasn't affected at all and those who believed in a radioactive cloud coming to Fukuoka wouldn't be safe in Busan either.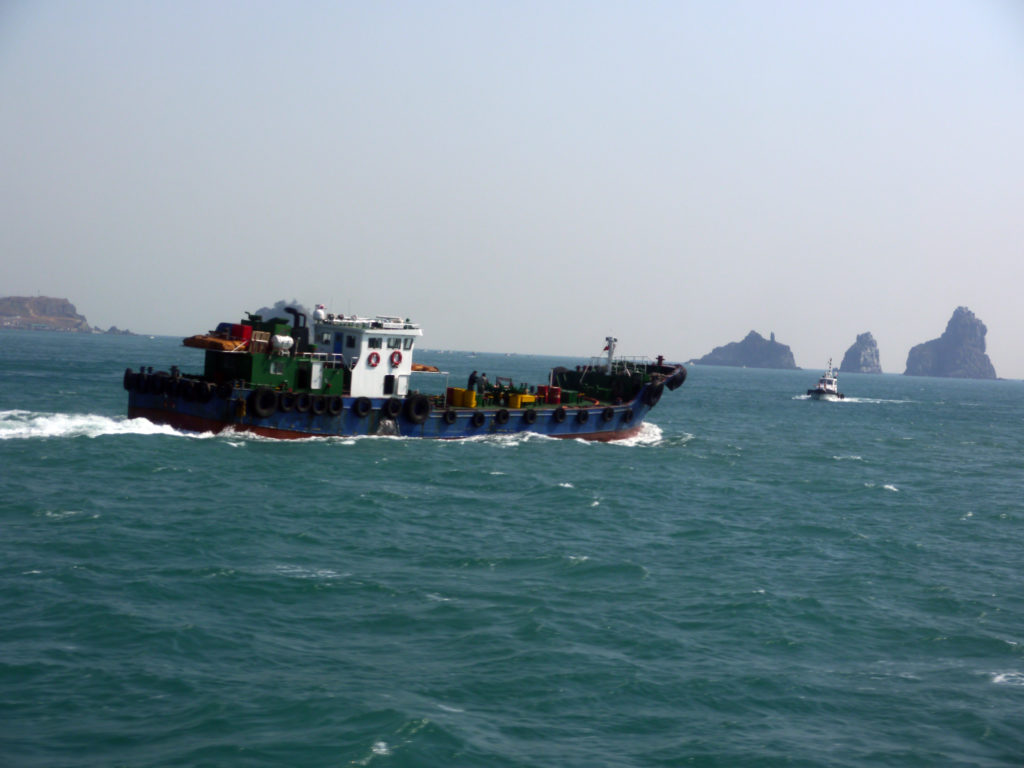 The trip with the high-speed ferry is surprisingly smooth. Because of the speed, you're not allowed to step outside. These photos were shot through the window. The cost for a one-way trip is 13000 Yen, for the round trip there is a discount when bought in advance (24000 Yen) or on a weekday (20000 Yen). The ticket can be bought online on the JR Beetle site. The site is in English language and supports foreign credit cards. There are multiple departures each day.
While the Busan ferry terminal can be reached by the subway, the Fukuoka one can not. When I returned from Fukuoka, I was checked for radiation at the ferry terminal. It felt a bit silly – how much radiation could a single person carry? I doubt you could be enough radiated to hurt another person.