The living room (the Mac was the last thing I packed in)
Because my flight leaves early tomorrow, I have to move out today. But before moving out comes the "inspector", someone from the household agency who checks if everything is ok. Basically the same procedure as in every flat in Germany. Of course one spends much more time getting the rooms as clean as possible so I didn't sleep very much and put the last bits of recyclable trash outside.The inspection was quite quick and the guy who came mainly counted every piece of furniture and whatever else was in the room. When I moved in in April, I was given a list, so I knew which things are supposed to be in the room. The Lonely Planet book, left behind by one of the former tenants wasn't on the list, so it was ok to take it with me. There wasn't a name in that book so giving it back was not an option.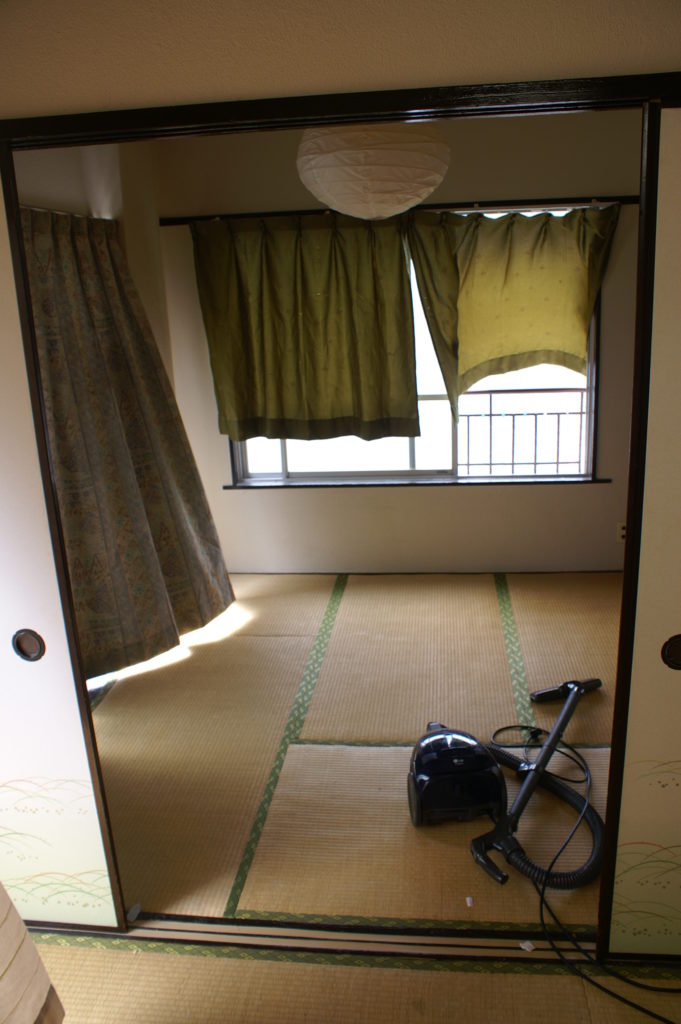 A look into the bedroom
Of the 30000 Yen I paid for possible repairs and damages, I got over 20000 back. So no major damages which is a good thing and no, I didn't patch things up, there really were no damages.
Looking at the pictures, I have to say that the rooms are lovely to look at. But the apartment was quite far from the train station (20 min. by foot) and a Japanese-style room isn't very suitable for working, I think.My bags felt like very heavy but I decided against taking the bus because I wanted to walk the way to the train station. On my way to the station I bought some supplies at my favourite Konbini, the "Mori Shop".
The kitchen
I have reserved a hotel room in Narita which obviously isn't that far away from the Narita International Airport.