Lucky Pierrot Hamburger Restaurant in Hakodate: Christmas everyday

Theme-based restaurants are nothing special in Japan and I've been to a couple of them in Tokyo. Lucky Pierrot was recommended to me by a friend. It's a hamburger restaurant where each branch uses a theme excessively. There is one which has Christmas images everywhere – not only during Christmas time, but through the whole year. I've seen a shop in Amsterdam years ago that sold Christmas items the whole year, counting the days until Christmas on a blackboard – "185 days until Christmas".
I've been to two Lucky Pierrots in Hakodate: One is opposite the Goryokaku Tower and another is near the red brick warehouses next to the Hakodate Nishihotaba Museum. The restaurants are usually open until 11pm.
There is a menu outside with names of the dishes both written in Japanese and English. Some odd burgers can be found on the list such as the Hakodate Snow Burger and the Marriage Burger.
The menu is the same so they don't adjust the food to the restaurant style. Generally, all Lucky Pierrots take kitsch to 11. The angel-themed one near the tower has images of angels on the walls and angel figures, while the other one I've been to is dedicated to merry-go-round horses. Almost every space on the wall had images of horses. During christmas they add santas and snow men to every restaurant of course.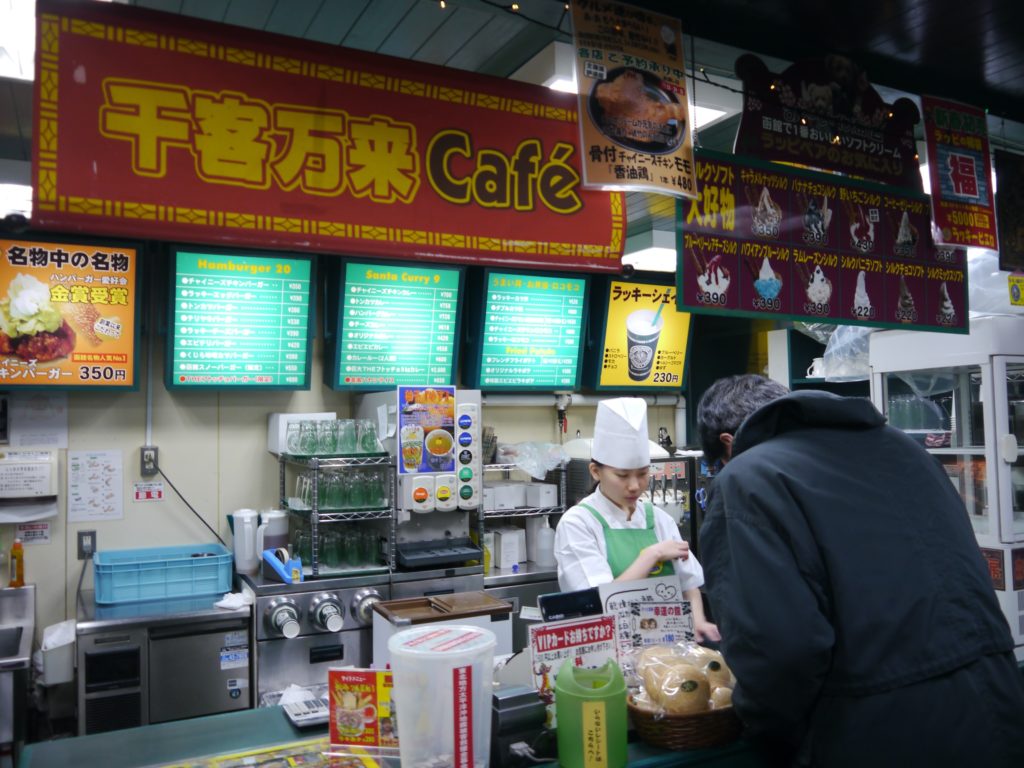 The front of the restaurant is also over-the-top:
I can not say anything about the quality of the burgers, but if you are in Hakodate you should check out one of their restaurants. It's certainly a unique place.