From Hakodate to Sendai by train – going underground
The Shinkansen bullet-train is one of the trademarks of Japan, yet, there's no Shinkansen on Hokkaido. Routes have been proposed as early as the 70's but it wasn't until 2005, when construction was finally started. In 2015 the first part will be finished, connecting Shin-Aomori (and Tokyo) to Shin-Hakodate. Currently you have to change trains at Shin-Aomori.
Fortunately, train connections are already advanced enough to offer express trains. So I took the Super Hakucho from Hakodate to Shin-Aomori and changed there to the Tohoku Shinkansen for Sendai. The green hakucho train almost looks as if it has a mouth, doesn't it?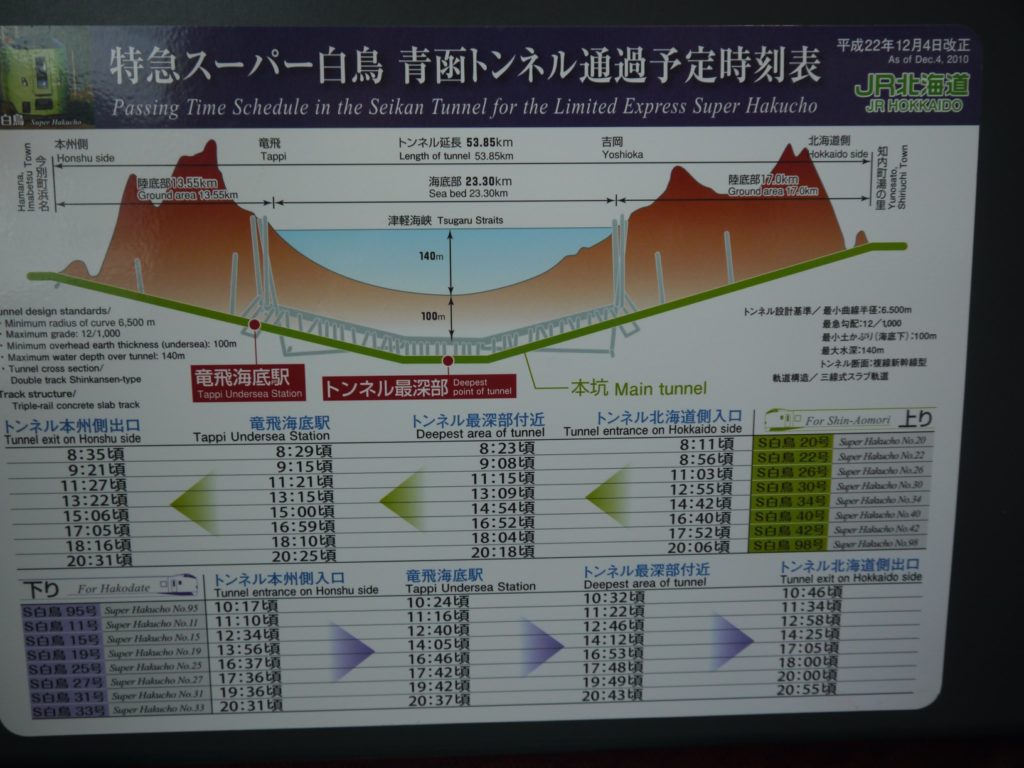 Hokkaido and the main island of Japan, Honshu, are connected by a 54 km long tunnel which is 240 meter deep at its deepest point. JR Hokkaido seemed to have the train fan in mind, when they made the info graphic. When riding the train, it just feels like a long tunnel, nothing special at all.
One neat thing on the Super Hakucho is the ticket holder. You will always know where you pick the ticket and if you fall asleep, they can still check the ticket. However, sometimes they want to see the JR Rail Pass too if the pass has been used to reserve the ticket.
The scenery outside was beautiful. But I hoped that I wouldn't see snow in Sendai.
Back to the diagram for the Seikan Tunnel, there is a station marked on the graphic, the Tappi Undersea Station. This is one of two emergency station in case of an accident. The Seikan is the longest undersea tunnel in the world and was completed in 1988.
Tappi-Kaitei Station can still be visited and has a museum detailing the history of the tunnel. While the underground station on the Hokkaido side (Yoshioka-Kaitei) still provides access in case of an emergency, the museum there has been closed. The same will happen to the one at Tappi-Kaitei once the Shinkansen connection between Hakodate and Aomori will be completed. The station is 140 meter below sea level, an underground cable car connects Tappi-Keitei to the surface. And I thought the tunnels of London's Tube or Tokyo's Oedo Line (48 meter) were already deep!
So train fans should visit the tunnel museum before it's too late.