Queen in the Park: The Queen Experience
Queen were huge in Japan and Bohemian Rhapsody is a karaoke classic. Queen in the Park was a fun reimagining of classic songs at Ginza Sony Park.
I'm a Queen fan – I've got most of their albums on vinyl, some on CD and various videos. I bought a Japanese Mini CD of Freddie Mercury's "The Great Pretender" which was used for a Honda Accord commercial. Somehow that CD ended up at a record store in Hamburg. On my first trip to Japan, I bought the Japan-only "We are the Champions Final Live" DVD.
Queen had a special relationship with Japan. They even included a song with a few lines of Japanese in their album "A Day At The Races". Te wo Torriatte (Teo Torriatte) is one of the few Queen songs with non-English words. It's not, however, the favourite song of Japanese fans.
Queen in the Park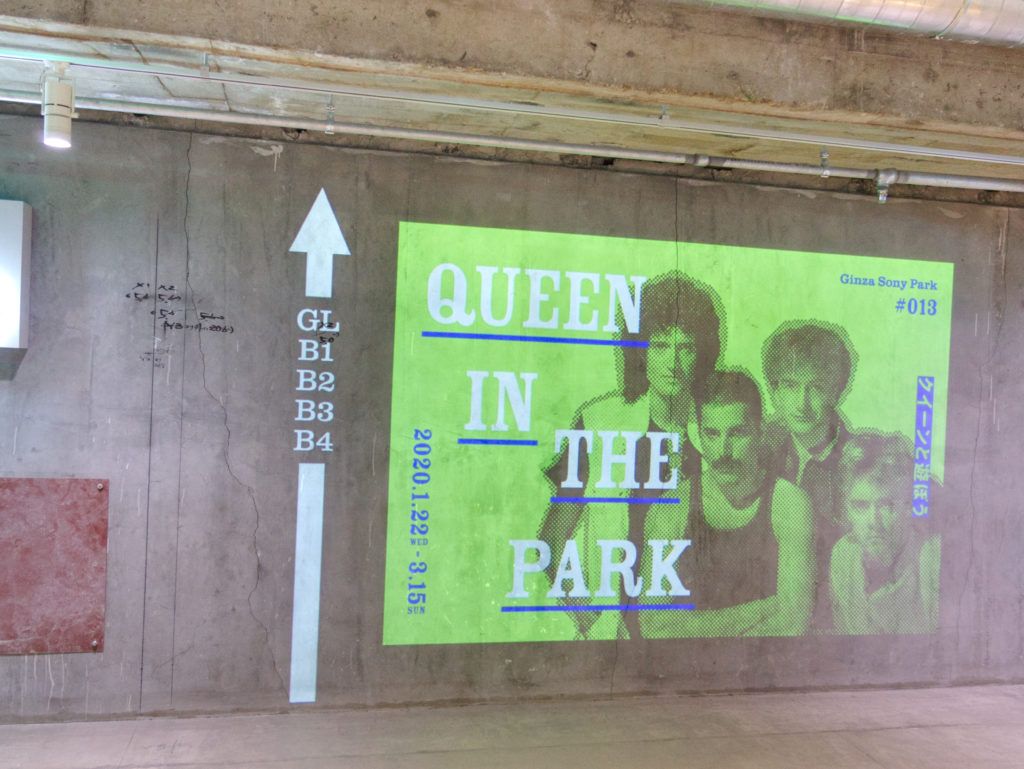 Ginza Sony Park is a project to promote the Sony brand, deliver interactive experiences and create a new event space. It's the successor to the Sony Building which was built in 1966. Of course Sony provided a public space since the beginning.
As of June 2021, the Ginza Sony Park is scheduled to be completed in 2025. At that point it will consist of a lower and upper park. Phase 1 (lower park) was finished in 2021, with September 30 marking the "Last Day in the Park".
Queen in the Park was project number 13 in the first phase and held from January 22 to March 15, 2020. The event wasn't on my radar though – I was meeting a Japanese friend that day and we went to an illumination event in Ginza after dinner.
Attractions
Queen in the Park featured six attractions, all dedicated to an iconic Queen song. The first one was a Queen makeover of the "Do Re Mi" musical scale steps of the Sony Building. Step on the stairs to create the rhythm of We Will Rock You. Do it four times and Freddie starts singing.
Number 2 was an installation and the best combination of a Queen song and Sony products: Radio Ga Ga. This song was played by seventy generations of Sony radios in chorus. And they had all kinds of radios, from a simple walkman to a portable entertainment device with built-in television.
Bohemian Rhapsody or Bo Rhap is too epic for just one installation. So the song was used to demonstrate Sony's spatial acoustic technology (Sonic Surf VR) and for a video parody. When we stepped into the latter, our heads replaced those of Freddie and John in the opera part – including the video effects!
Number 5 was the most straight-up part: karaoke. The karaoke booth featured just one song, We Are The Champions. The booth was of course sound-proof!
Last but not least was "Another One Bites The Dust". This one was the most unusual: The song was used with a multi-projection system that used lyrics, colours, sounds, silhouettes and movement by the visitors.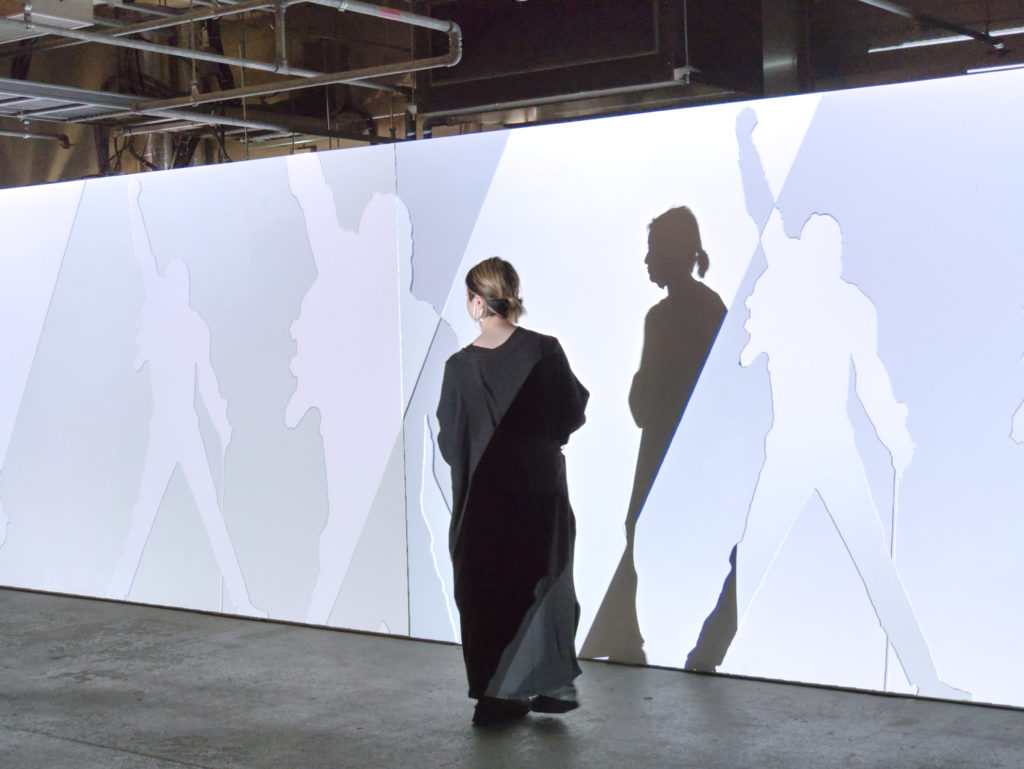 Bonus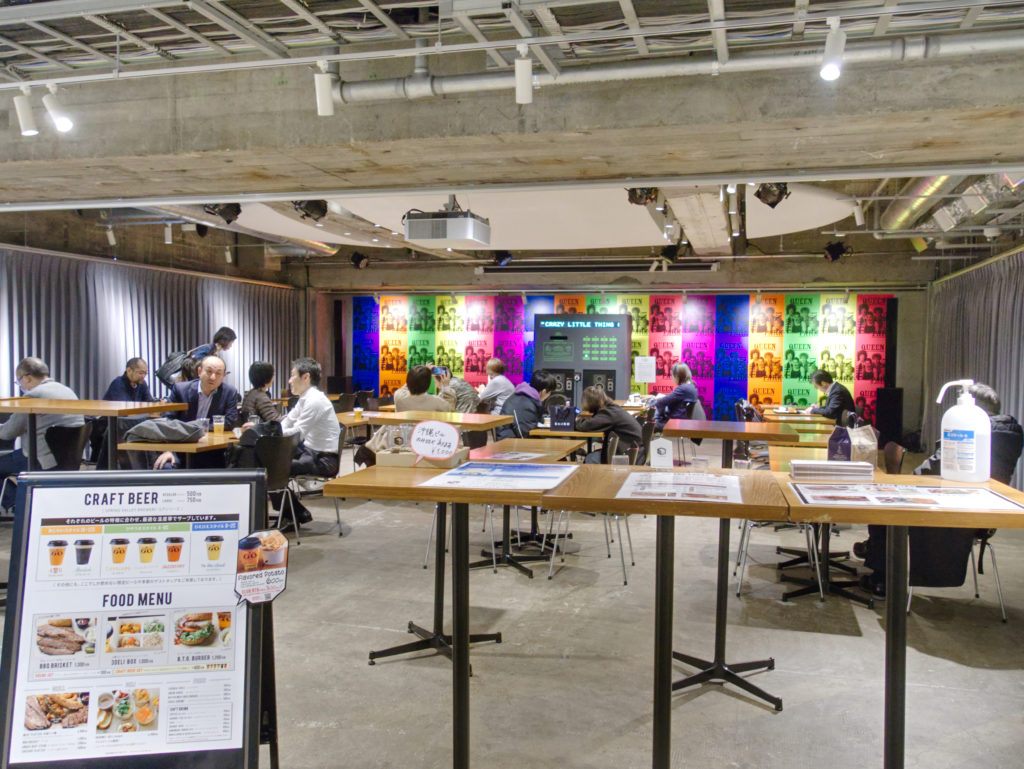 A special juke box was set up to play only Queen songs. The money collected was donated to the Mercury Phoenix Trust. Sony announced that 393671 yen were collected (around 3000 euro/3460 dollar).
On February 2, Japanese Queen cover band Queeness played at the Park. I've seen another Queen cover band in Hamburg many years ago and I would've loved to see Queeness too. This band also released a video of their cover of "In the Lap of the Gods… Revisited" on YouTube:
Of course they have also covered Teo Torriatte – and replaced "God Save the Queen" with a rock rendition of "Kimigayo". I love it!
Queen in the Park Location + more info