[video] Resurrection Freeze Tokyo
Finally the day has come for the second freeze meet-up and this time it's even bigger. There are many videos on YouTube showing a group of people freezing in a public place. It has been done e.g. in London, New York and Paris.
This second freeze in Tokyo was an ambitious project because it was held in two locations (first in Harajuku, then in the area near Shibuya station). While the first one had only three people filming (myself included), we had five or six people this time. Besides having a part in the filming, I am also responsible for editing the video.
The video is about five minutes long and was edited like a music video, following the song "The Living Hell of Another World" provided by Igor Prusa. Since we had many videographers this time, we also had a variety of cameras. Therefore the material was varying in resolution, quality and colour balance.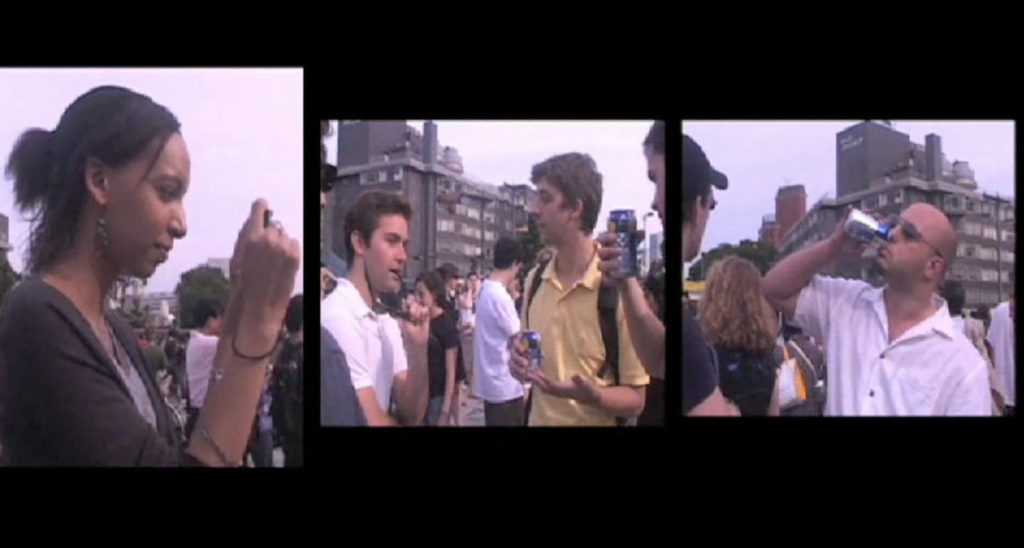 The idea to use a split-screen was in the beginning not an artistic one – because I was editing the video in HD 1080i (native resolution of my camera), the standard definition material would either feature huge black bars or would have to be scaled. I chose the split-screen approach to reduce black bars and also composing images which both show the freezers and the people watching them.

Some of the videographers concentrated on one group of "frozen people" for one or two minutes. These scenes were later reduced to a few seconds to create a time-lapse effect. Editing was done in Final Cut Studio 2.
There were some things intentionally left out, like the women from "Whim & Rhythm" walking around, chanting. They just didn't fit into the, um, rhythm… On the other hand, there were a group of US-american tourists who I could convince to do a spontaneous freeze for the camera. Thanks, guys!
I didn't participate in filming the "Freestyle event" afterwards but did the editing. This clip features music Lisa DeBenedictis. I knew when I watched the raw material, that her dreamy songs would fit well. Even the lyrics seem to fit, although I usually select a song because of the mood and not the lyrics.