Shibuya's Green Frog Train (青ガエル) – A Farewell
You were more than just a green Tokyu 5000 museum train opposite Hachikō. A piece of Tokyo's past left Shibuya after 14 years. The history of Shibuya Station's Green Frog Train.
It's hard for me to think back to a time when the frog wasn't there. I first visited Tokyo in 2004. At that time, it was just Hachikō alone. Such a burden for one single dog. Back then, Tokyo still had a train museum – in Akihabara! Needless to say, I visited both: Hachikō and the railway museum.
When I finally moved to Japan in 2007, the old Transport Museum was gone. The new Railway Museum in Saitama City opened that year, just in time for the 20th anniversary of JR East. But one piece of rail history remained on the other side of the Yamanote Loop, opposite Hachikō: the Green Frog.
The green colour was typical for the Tokyu 5000 series by railway operator Tokyu Corporation. These trains were true work horses (frogs?), operating from 1954 to 1986. Even after their farewell ride most of the former Tokyu 5000 continued to operate in other parts of Japan. The transferred trains were repainted of course.
School & Green Frogs
Shibuya Station was my final stop on my daily commute to school. What was it like to pass by Hachikō and cross the Shibuya Scramble everyday? Well, I didn't. I took another exit that was closer to the Naganuma School. When living in a city, you quickly take things for granted – and I met friends at all kinds of places not just at Hachikō.
It was different for class trips, however. Class trips were part of each semester and of course we didn't meet at school (ten minute walk from the station). While the official meeting point was the Hachikō statue, all of my snapshots showed my classmates and teachers in front of the Green Frog Train. The Green Frog became the backdrop, albeit unintentionally.
That was true for most Japanese as well. People leaned against the green train, used it as a waiting room or a meeting place. The latter was also because it was too crowded around Hachikō.
How the Green Frog became a Yellow Dog
From 2013, the inside of the train was used as a tourist information. Not the biggest tourist info in Japan, but very easy to find. Three years later marked a low point for the Green Frog: graffiti. The train car was "tagged" on August 26 and photos of the train spread through social media. But in October, the frog came back with some more positive headlines: A collaboration with Sanrio's Pompompurin. The green frog was dressed up as the Golden Retriever Pompompurin and Hachikō Square became an open-air dog cafe.
When I entered the train in 2020, the interior had a Hello Kitty theme. At that time, Shibuya was bustling as ever – while there were considerably less Chinese tourists, everyone else could still visit Japan.
Goodbye, Tokyo!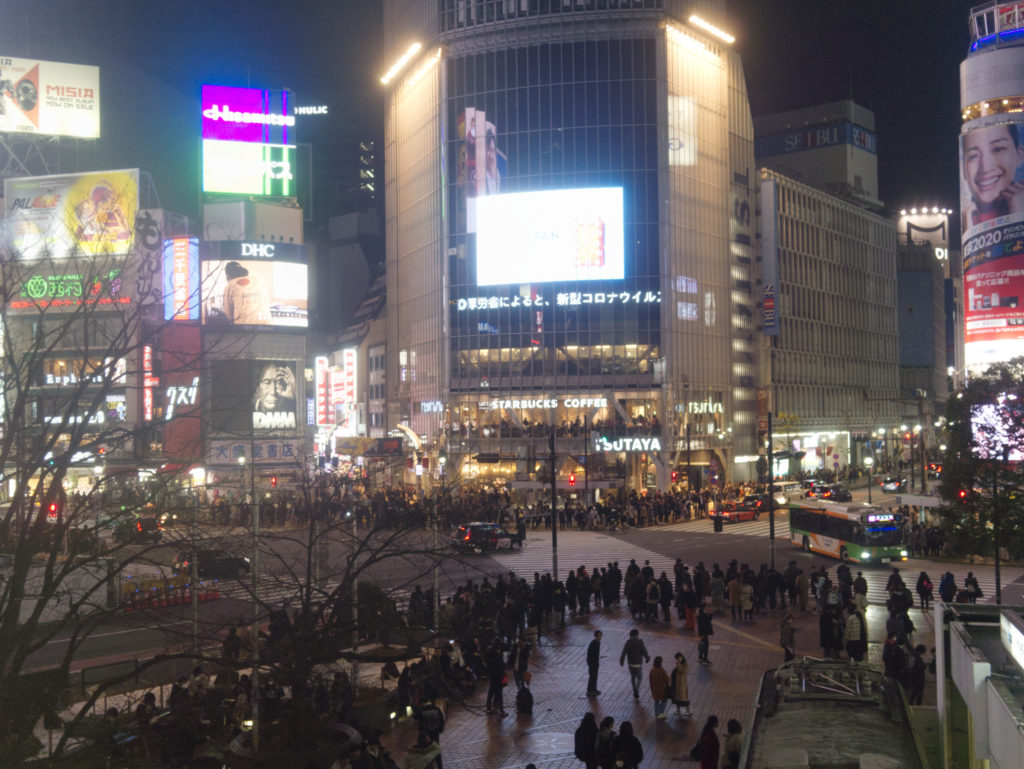 In recent years, a massive redevelopment plan started for the area around Shibuya Station. This plan will add even more high-rise buildings and even the Yamanote Line will be affected. While Hachikō will remain, the square between Shibuya Station and the famous Shibuya crossing will see some changes too.
On August 3, 2020, the Green Frog bid Tokyo farewell. It moved to Ōdate, Akita Prefecture. There is no big Shibuya-style redevelopment planned for Ōdate. The Green Frog will serve as a space for tourists to get some rest.
Of course there is a connection between Ōdate and Shibuya: The loyal dog Hachikō was born in Ōdate, but waited in front of Shibuya Station for his owner. The new home for the Green Frog even has something more in common with Shibuya: There's a Hachikō Statue. The Green Frog Train isn't facing Hachikō, but the train is just around the corner.
The Akita Dog Visitor Center has already adjusted the souvenir selection. Besides many Hachikō products, a pound cake is offered with Green Frog Train wrapping. Yum!
Let's meet… at the Green Frog Train?
So it's still possible to meet each other at the place where a Green Frog meets a dog! How long will it take to follow the Green Frog by rail, starting at Shibuya Station? It's quite a ride! You'll first take a train to Shinjuku, then change for the Shonan-Shinjuku Line to Omiya in Saitama. The Shinkansen Hayabusa will take you to Shin-Aomori. Then it's another 68 minutes by Limited Express Tsugaru to Odate.
The whole trip will take almost five hours, but is covered by the Japan Rail Pass. But if you're in Akita Prefecture why not say hello to the Green Frog?