During our trip to Busan, we also went to Haeundae Beach. Haeundae is probably the most famous of all beaches in Korea and during the Summer season, tourists from all over the country come to Busan just to have fun at an over-crowded beach. If that famous Shibuya crossing was suddenly turned into a Korean beach, it would definitely be like Haeundae. Best time to visit is May or September.
Haeundae is also an event space. Although the beach is not close to the town centre, it is used as a venue for the Busan International Film Festival (BIFF) and other events. Near end of May/early June the Sand Festival is held at Haeundae which I've visited three times so far.
Night time view of the shopping mall
Before going to the beach, I went to nearby shopping mall Enter 6. It's not a big mall and only has a few restaurants and a small trick art museum. One of the restaurants is an all-you-can-eat buffet one, which also offers wine and steak to order if you want to eat something more fancy. I didn't feel like paying even more, so I decided on the buffet (16000 won). The buffet was actually quite good and a mixture of Asian and Western cuisine.
When you exit Haeundae station to the beach, turn left and walk ahead until you see the mall.
But now to the beach…There were still a lot of people at the beach, but nowhere near as much as during the main season. The sand of the beach feels very smooth and that's why I enjoy this place so much. The cold sea water was very refreshing – outside temperature was about 30 degrees.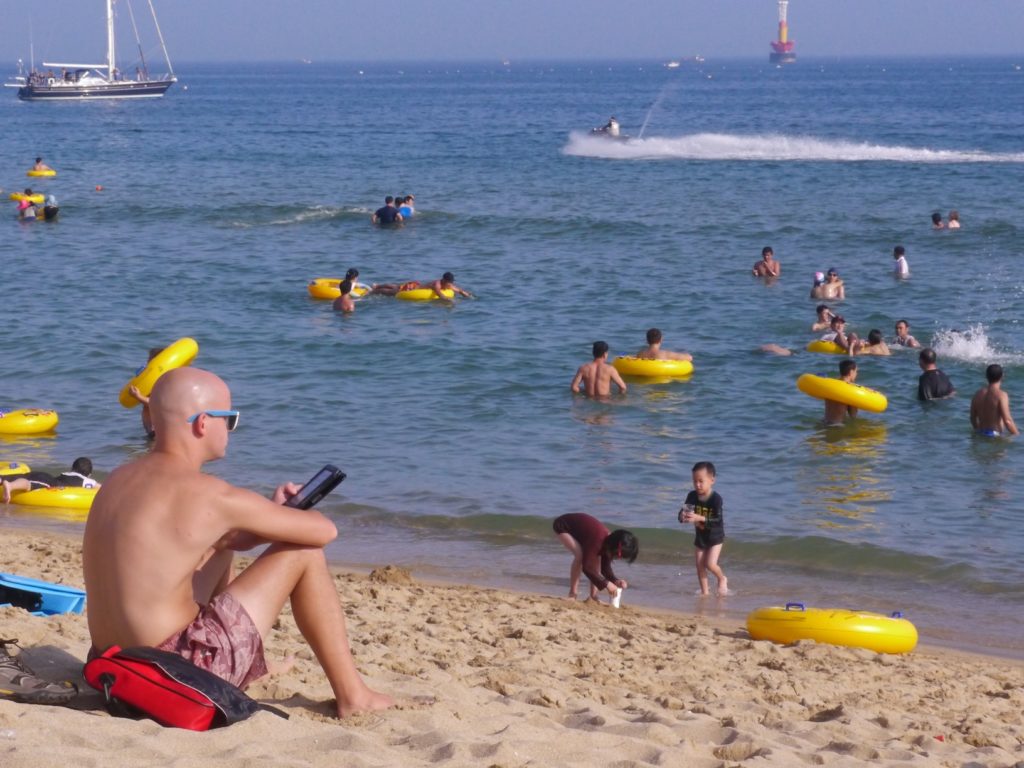 Haeundae Beach is one of the places in Busan with free wi-fi. Signal strength isn't very good at most parts of the beach. When you reach the beach, there are also displays on your right – you can take a funny photo there and send it by email.
There are some hostels near the beach but note that if you stay near the beach, you are far away from everything else, including the airport, ferry terminal and Busan Station. That's why I stayed at the Zen Backpacker Hostel in Seomyeon, which is in the centre of Busan.
Haeundae Beach is the "daytime beach" of Busan, if you are heading out to the beach at night, you should go to Gwangalli Beach. There are lots of bars, pubs and restaurant near that beach and you can see the illumination of the "Diamond Bridge".