From the Wall Street Journal to Biscuit Today, there was probably not one magazine which didn't report about the iPhone 5 and its launch day. Since Apple tends to give even its partners as little information as possible, most of the smaller cell phone shops here in Japan had to improvise. Most important for the customer was, whether the shop takes reservations or not.
So cell phone shops know the iPhone 5 will sell well, but they haven't received promo material or event demo units yet. Therefore they improvise: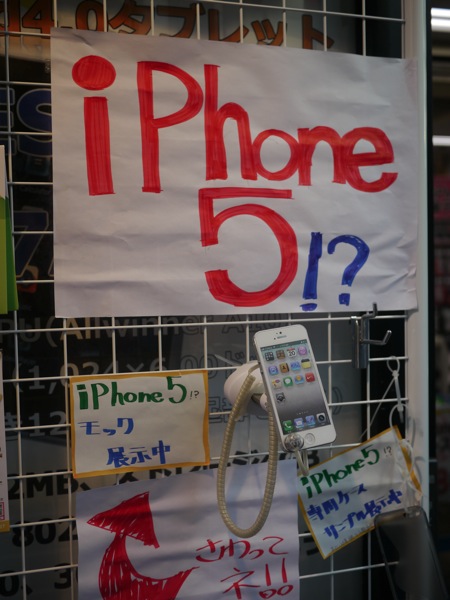 Some shops even had cases! As usual, Chinese manufacturers started producing cases long before the iPhone 5 was announced. That's why this store already has the cases – but not the smartphone.
Some people just can't wait for decent cases or simply want to attach their cell phone charms the day they buy their new phone.
At other stores, the iPhone 5 was simply called the "5".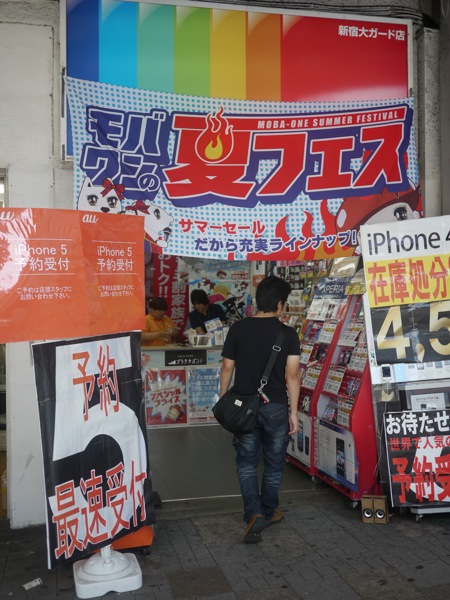 The day after the keynote, cell phone shops had to help themselves and draw posters. It's funny how Apple still tries to be secretive when almost every detail was leaked weeks before.
One of the most important features for Japan is 4G support. Japan, South Korea and the U.S. have the most people on 4G and providers hope that they can sell more 4G contracts thanks to the iPhone.