The No Nukes festival was initiated by Ryuichi Sakamoto and called for a ban of nuclear power plants and weapons. He assembled many fellow artists such as Asian Kung-Fu Generation, the Hiatus and Kraftwerk for a two-day festival held at Makuhari Messe.
For me, the performances of Yellow Magic Orchestra (YMO) and Kraftwerk were the main reason to pay 6800 Yen for a one-day pass. Kraftwerk only played on the first day.
Unlike most of the Summer festivals, Nu Nukes was located conveniently for Tokyoites. Getting to and back from Makuhari Messe on the same day is no problem. The downside is that trade show halls are not great concert locations.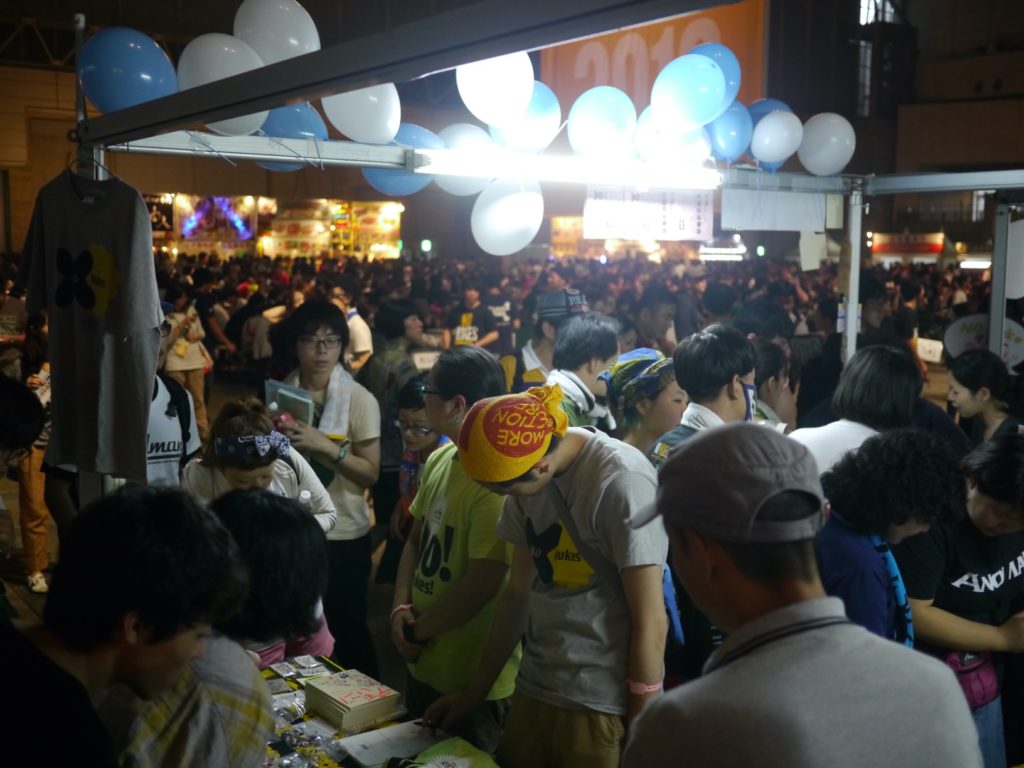 Merchandise goods were sold in the first hall. Even though I arrived in the middle for the first bands' setlist, all Kraftwerk goods were already sold out! Besides these booths, various environmental, peace and clean energy groups were represented (e.g. Peace Boat).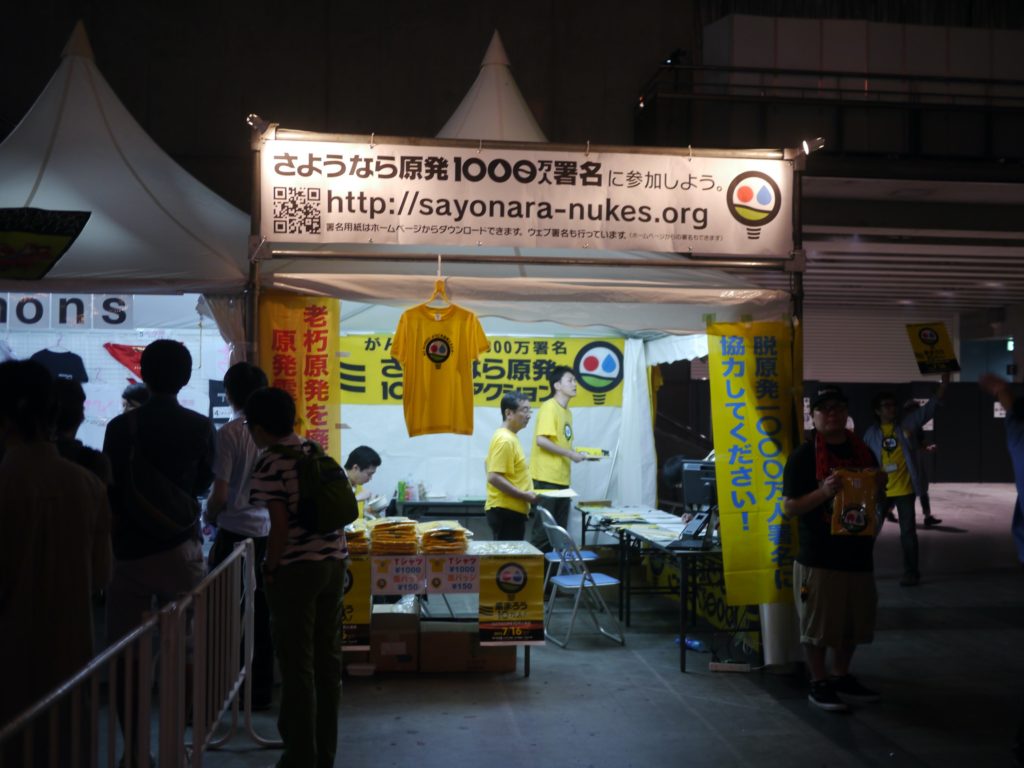 Official goods
Of the lesser known bands I was especially impressed by Soul Flower Union. They mix many different music styles and languages into their songs and are full of energy on stage. I'd also recommend the HIATUS, a rock band formed by former Ellegarden vocalist Takeshi Hosomi. Before each band, short interview clips were shown – the educational part of the festival.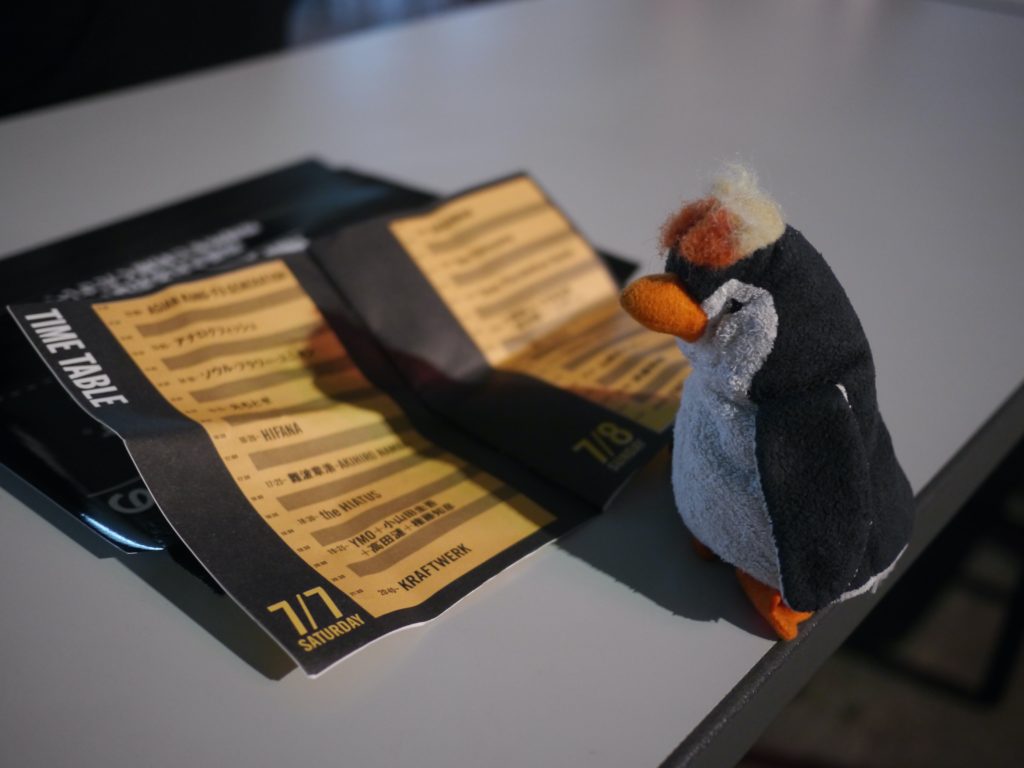 Penguin studying the time table
Although all the performers before YMO are popular in their own right – Asian Kung-fu Generation even have their own music festival – most people were waiting for YMO and Kraftwerk. Once YMO started playing, there was no getting out of the front rows!
Yellow Magic Orchestra surprised with their own (excellent) rendition of Kraftwerk's Radioactivity. Concentrating on the refrain ("Radioactivity, it's in the air for you and me") and leaving out the intro later added by Kraftwerk, the anti-nuclear message was still clear. Of course they played all of their own classics. YMO isn't a group which tries to play every note like the album version and they include guest musicians for their live performances. I definitely prefer them live over their studio albums. During YMO's performance, people were photographing so much, that the organizers started monitoring the audience more closely.
Relaxing between two performances
Kraftwerk were the only foreign act performing at the festival. Last time I watched them live when they were promoting their Tour de France Soundtracks album. With a shortened setlist though, they didn't include any TdF tracks and played their mainstays instead (The Robots, Dentaku, Trans Europe Express etc.). Radioactivity was updated to include Fukushima (used interchangeably with Hiroshima) and more lyrics in Japanese sung by Hütter.
According to Kraftwerk fan site Info Non Stop, they played this version again in Göteborg/Gothenburg. I'm still hoping for a Blu-ray release of the concert though. The clips posted on YouTube by various persons suggest that video clips of the concert were released somewhere. Search for the band name, the festival name (No Nukes 2012) or the date (7/7, 7/8) on YouTube or Nico Nico to find the clips.