Kasukabe Community Matsuri – Taiko, Dance & Fireworks
Not having enough of fireworks this year, I searched for other festivals in the Kanto region. The Japan Tourist Organization, whose festival list is used by the Japan Times, is of course selective but there are other Japanese sites online which list almost all the fireworks, cherry blossom and other seasonal festivals for any given region.
That's how I've found the matsuri (festival) in Kasukabe (春日部) which was listed as one of the last fireworks festivals in 2010. I checked the train connections and found out that I could combine the festival with a visit to Soka and the city of Kasukabe. Both cities are in Saitama prefecture and the websites offer a guide to the sights.
There is apparently a Summer festival in Kasukabe where they carry portable shrines (Mikoshi) through the streets. The festival I've been to was the Kasukabe Community Summer Festival (春日部コミュニティ夏まつり) followed by the fireworks. The community festival is not held near Kasukabe station, the closest station is Minami-Sakurai Station on the Tobu Noda Line.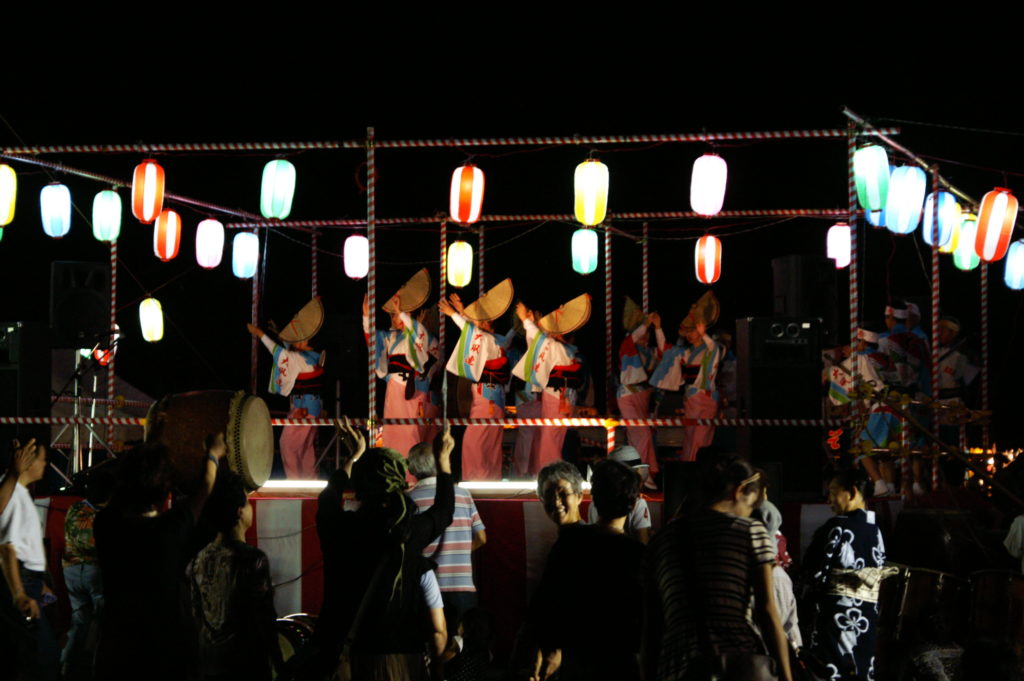 The festival site is the Showa Sogo Park (庄和総合公園). Since it is not a famous festival, there were hardly any signs of the festival at all when I left the station. What a difference compared to the festivals in Tokyo where I was almost guided by security from the train station to the festival site!
After walking for about 15 minutes, I reached the park. While the festival is well-visited, it's not overcrowded. Food stalls were offering the usual food and snacks (yakisoba, okonomiyaki, kakigori) and I didn't see any people rushing to save the best places for the fireworks part.
The community character implies that the visitors are part of the festival. A traditional dance was performed on stage with visitors dancing in front of the stage. Later, the dancers came down to the audience to form a big parade encouraging anyone to join them.
Next Taiko drummers performed in front of the stage while a portable shrine was carried through the crowd. It seems that this festival is like multiple matsuris in one on a small scale.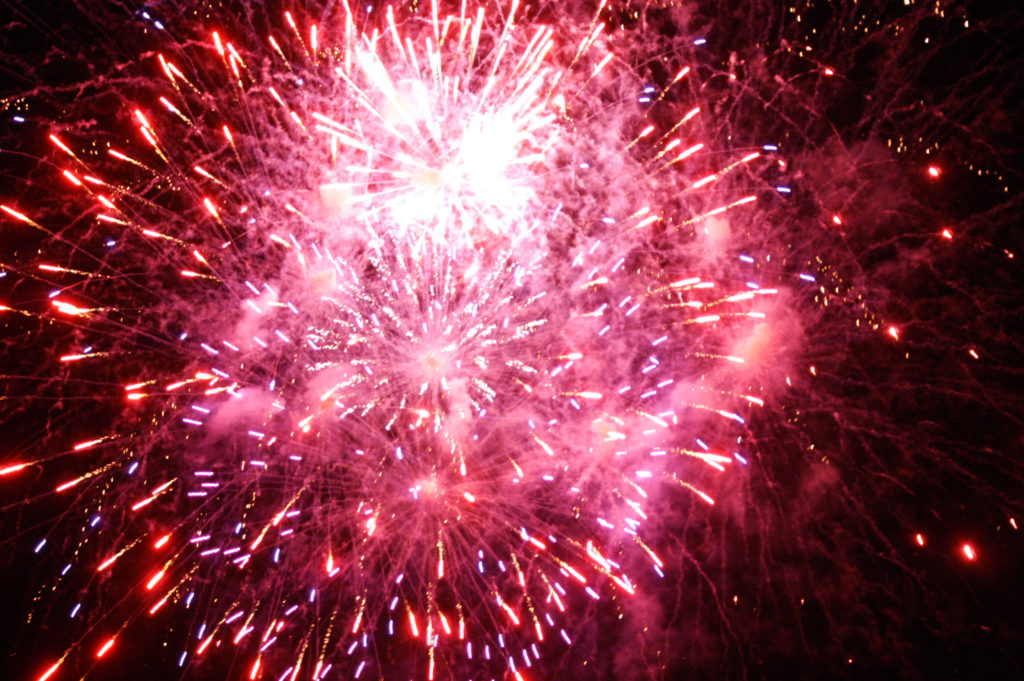 The fireworks show was the highlight of course and the advantage of a small festival is that you get closer to the fireworks. Some fireworks were lit with a dedication, such as a wedding proposal and a child's wishes.
Overall I quite enjoyed this festival. Taiko drums from the back, mikoshi in front of and fireworks above me – very nice and certainly worth a visit. I will visit it again one day.
Travel time from Shinjuku to Minami-Sakurai is 65 minutes with a change at Omiya.