Loving Hut is a fast growing vegan food restaurant chain founded by "Supreme Master" Ching Hai. Unlike most restaurant chains, each branch can offer different kinds of food, e.g. the one in Palo Alto had nothing in common with the one in Seoul. Tokyo already has a few vegan and vegetarian restaurant and even a vegan festival near Yoyogi Park. Now it also has a Loving Hut.
Of course, the Tokyo one caters to the local taste. Therefore you will find two curry plates on the menu in addition to a hamburger, vegan hot dog, cheese tart, ice cream and a spicy noodle soup. The main dishes are offered as a set with soup and dessert. Take out is an option for any dish (not including the soup).
This is really more of a "take out" place, the chairs they have in the restaurant are uncomfortable to sit on even though I'm slim. The dish I ordered was the Zen Plate for 1000 Yen with teriyaki vegan meat made from soy bean and lotus root. Like the healthy restaurant I visited in Sapporo, this dish consisted of various small dishes. Very yummy and not expensive (for Tokyo). Interestingly, I got a number after my order, although I was their only costumer!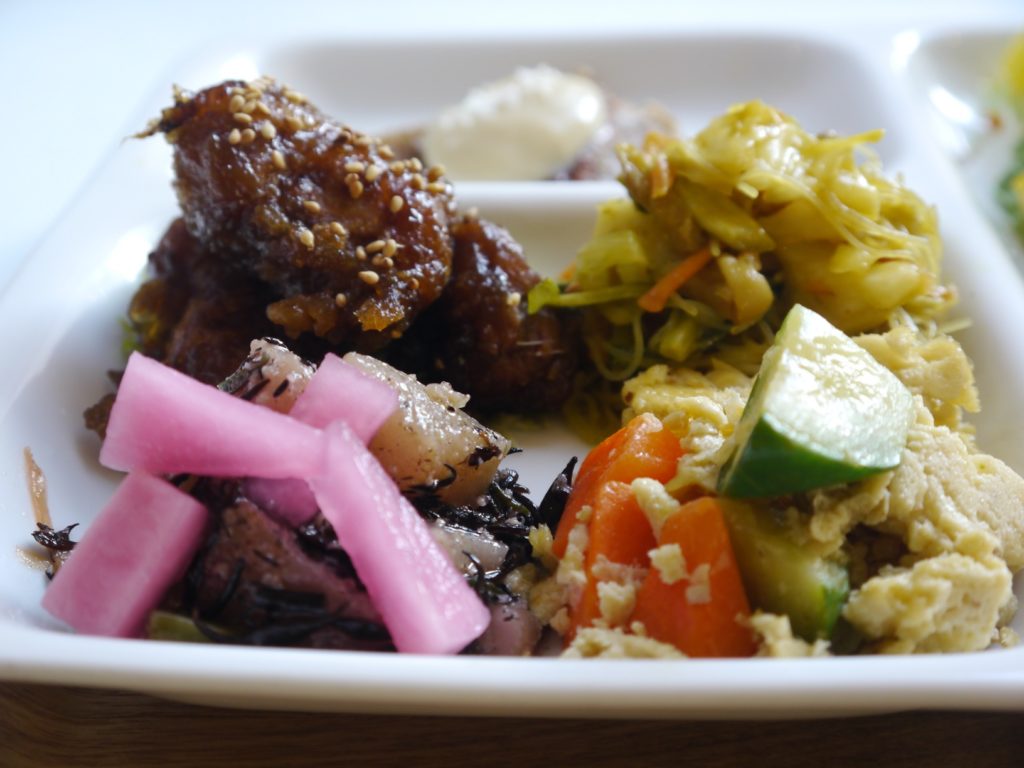 One thing I didn't like was the TV running in the background. While this is common for most if not all Loving Huts, usually they will mute it. Not so in Tokyo.
Loving Hut is near Tokyo Metro Yotsuya-sanchome on the Marunouchi Line. Get out at exit 4 and then turn left at the first small side street. Walk down about twenty meters. Loving Hut is on the second floor of a small building. Lunch time is from 11:30AM to 3PM, dinner from 5PM to 9PM (last order 8:30PM). On Sunday, the restaurant is open from 12 to 7PM. They are closed on Saturdays and national holidays. The restaurant also takes part in various festivals (not just the Tokyo Vegefood Festa) around Tokyo so you may spot their yellow catering service car there.
Their website, although mostly Japanese, contains descriptions of all dishes in English language. Supposedly, the owners speak English as well.