Cafe with Penguin & 1st Penguin – Penguin Cafes in Seoul

I already talked about Seoul's coffee shops such as the Charlie Brown Cafe and Hello Kitty Cafe. One day I wondered if there are cafes about my favorite animals (penguins) and yes, there are at least two in Seoul. Obviously there are no living animals there unlike in cat or rabbit cafes. One cafe is a study cafe called 1st Penguin and the other is an ordinary one called Cafe with Penguin.
1st Penguin
While it's not unusual for cafes to be used for studying, I think the coffee shop owners would rather have customers who stay for just one hour instead of six. Still, I've seen coffee shops both in Tokyo and Seoul which were clearly remodeled for students. My local Starbuck's in Nakano introduced long tables with small lamps – good for studying.
1st Penguin is located near Korea University, one of the three best universities in Korea. With an emphasis on small tables with just two chairs each and a desk lamp for most tables instead of one big overhead one, this place is clearly a study cafe. People don't come here to chat, so it was very quiet. Don't have anything to study? They have books too – not as many as a book cafe though.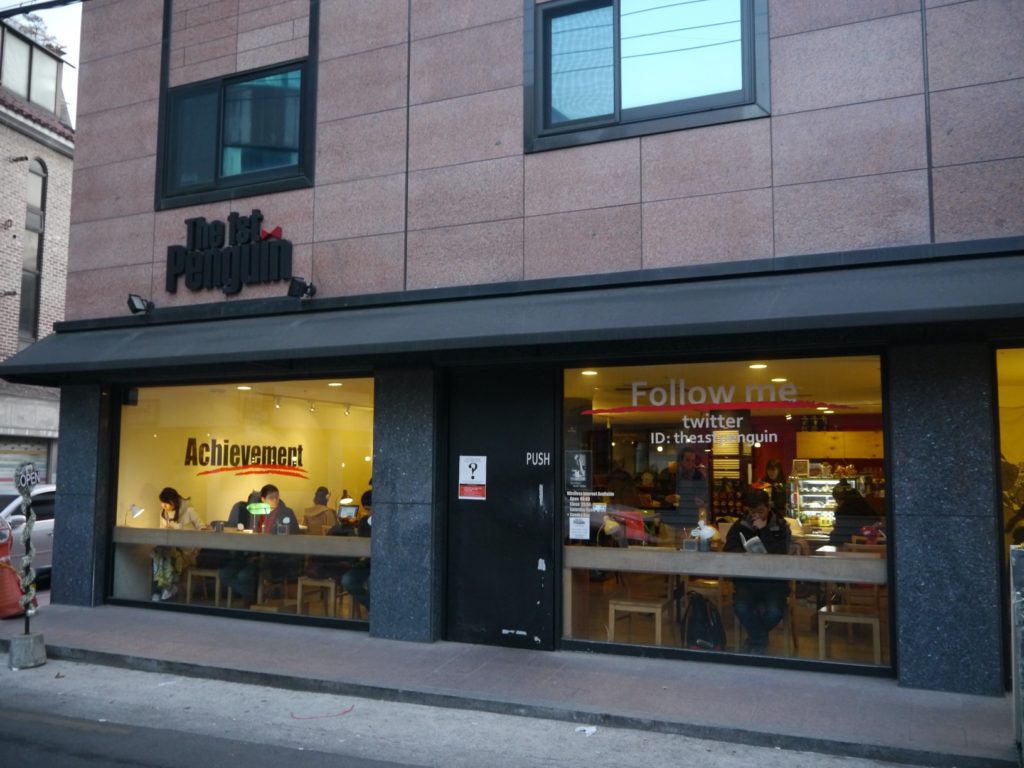 Near the walls they have power sockets to connect your notebook. WiFi is available and free. Small snacks are available and if you're hungry after studying there are lots of restaurants nearby – this is a university area after all.
The 1st Penguin falls short in the penguin department. Just a few cuddly toys on the bookshelf and around the front. On the other hand, the simple design of the interior and the colors help students to stay awake unlike the typical Starbuck's with warm colors. I didn't think that the staff was very friendly – maybe he's only used to regulars?
Cafe with Penguin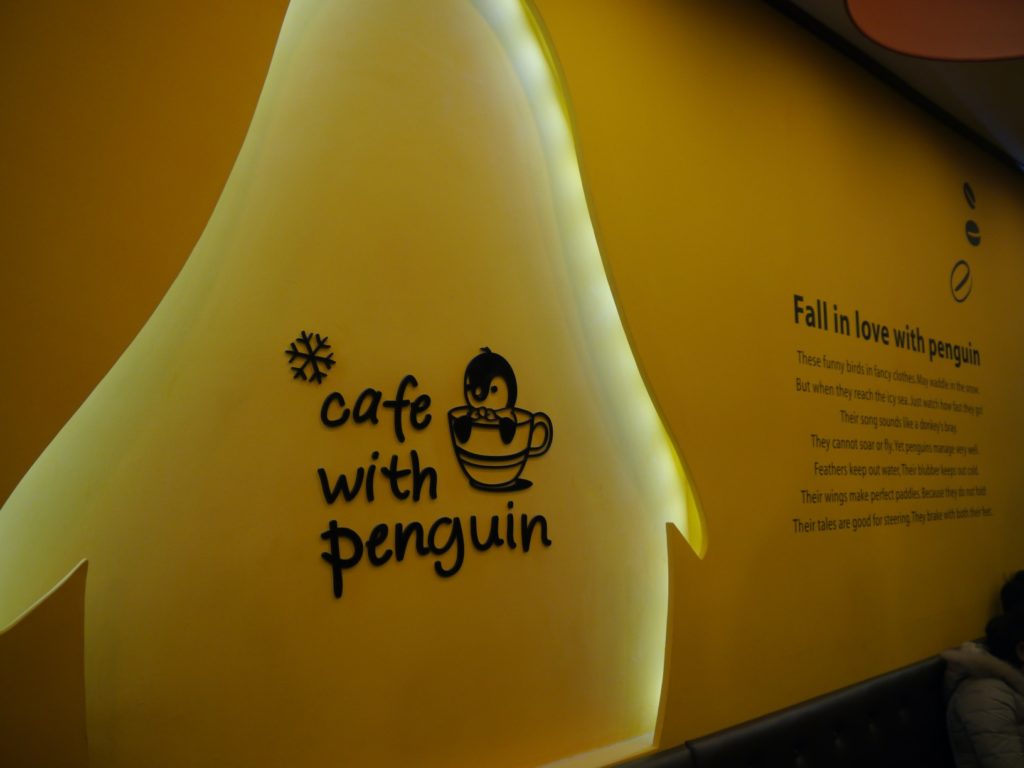 Cafe with Penguin is a small cafe on the outskirts of Seoul. It's so small that it has no website but it makes up for it with lots of penguins. Penguins on the wall, next to the iMac, on the bookshelf, at the counter or on the point card – this is a true penguin cafe. The iMac is showing a video of penguins in their natural environment when no one is using the Mac. There's also more penguin variety compared to 1st Penguin and their logo is cute as well. Even the cushion is penguin shaped.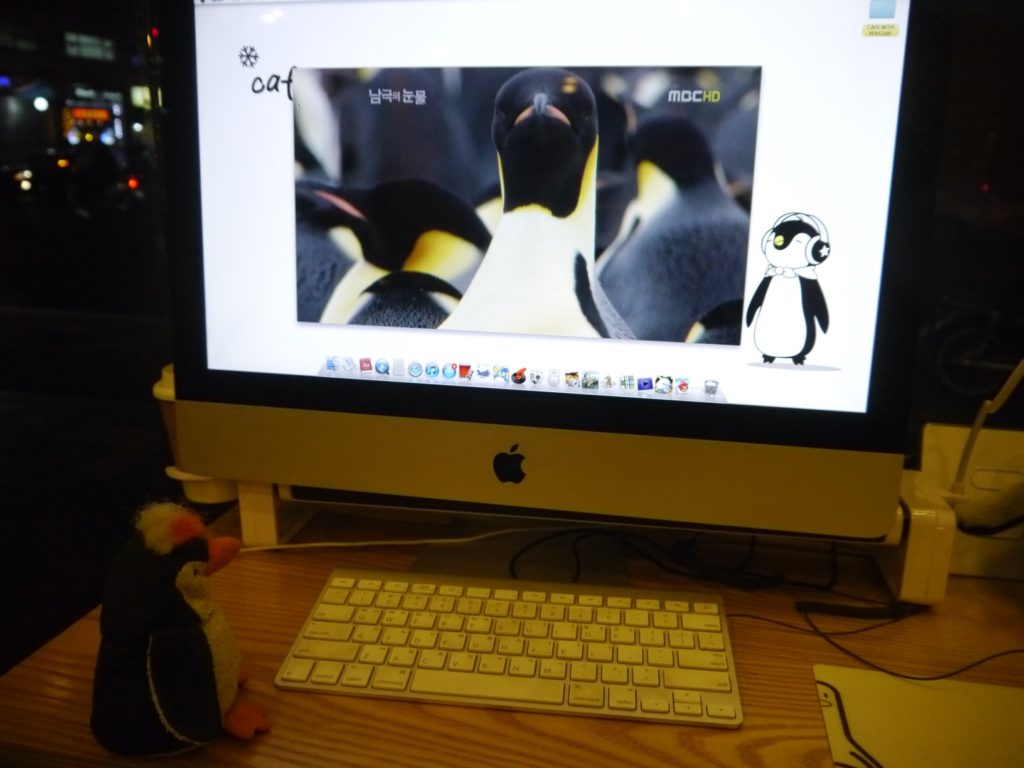 The cafe offers coffee, hot chocolate, smoothies, juice, waffles and sandwiches. Prices are reasonable – 3000 won for a hot chocolate – and there's an English menu available. As with 1st Penguin, WiFi is available and free.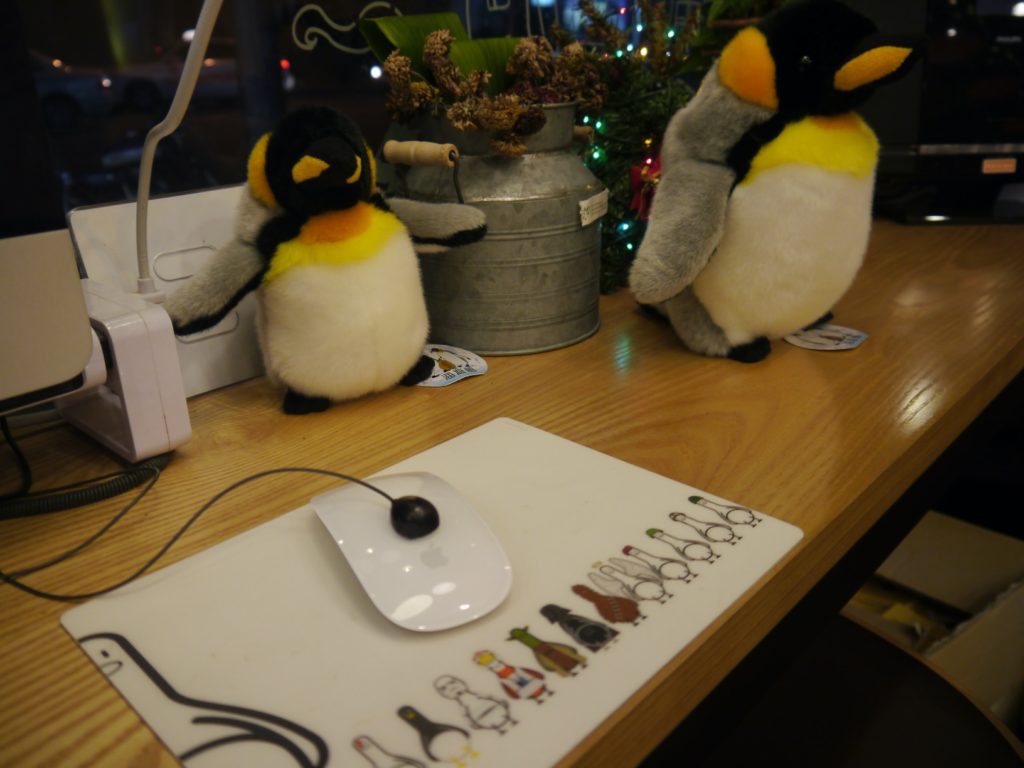 Cafe with Penguin doesn't have many seats and the area around Gangdong Station is not particularly interesting. But this is the better penguin cafe I think. Cafe with Penguin is open everyday from 8am to 12pm.
How to get to 1st Penguin: 1st Penguin is a three-minute walk from Anam Station Exit 3. Turn right at the second small street. The cafe is closed on Sundays.
How to get to Cafe with Penguin: Get out at Gangdong Station Exit 2. Turn left at the next intersection and then cross the street at the next intersection. Cafe with Penguin is next to a GS25 convenience store.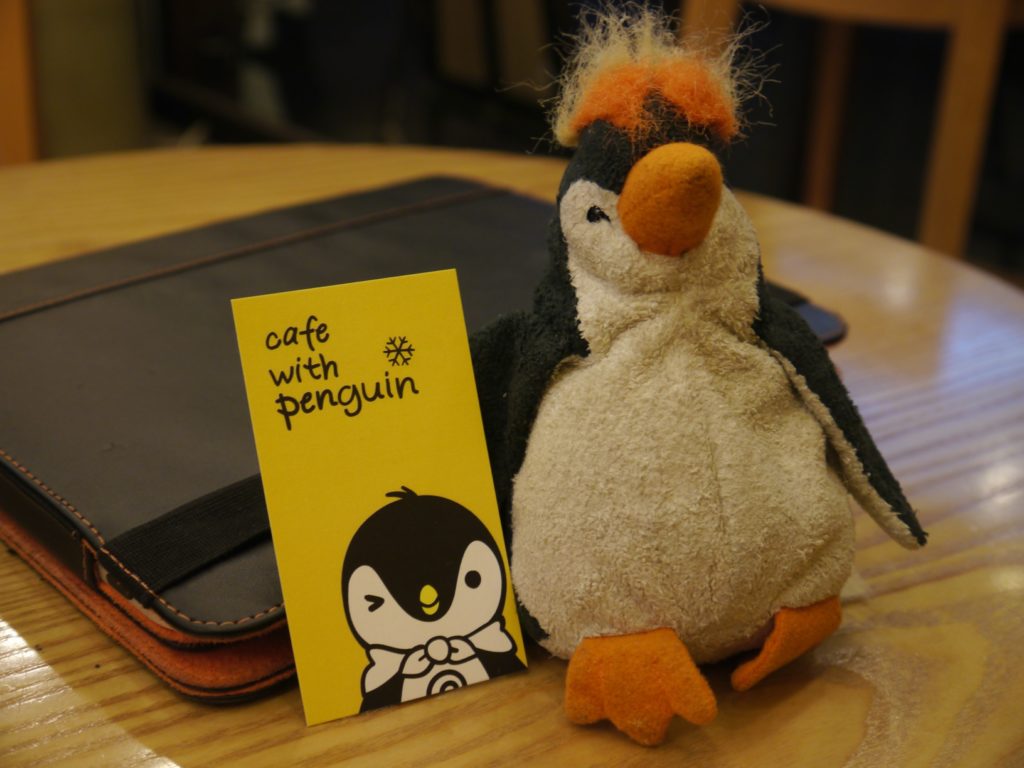 Penguin Cafes in Tokyo?
Is there a penguin cafe in Tokyo? A quick web search only showed fan pages for the British music collective Penguin Cafe Orchestra. There is one near Koikawa Station in Chuo City, Yamanashi Prefecture which seems to be more of a restaurant and without any penguin imagery judging from the photos I've found. Another one is five minutes from Yugawara Station in Yugawara, Kanagawa Prefecture (info page in Japanese).
There used to be a Penguin Cafe in Kichijoji, Tokyo which sold kitchen ware but then closed. The web address is still active, but returns an error.
So sad, I think I need a drink 🙁 Where do I go for a beer? To the Penguin House pub in Koenji (English) of course!