Of course I wanted to get out as soon as possible. Like in Japan, not all banks accept international cards and those that do, don't seem to advertise this feat much. What I'm still not getting quite used to is the currency (Won). I have to divide the price by 1300 to get the approximately Euro price. And I'm of course more accustomed to the Yen after four months in Tokyo.
The subway is quite nice using gates that can't be as easily skipped as the Japanese ones. I bought a "T-Money" card today which is a pre-paid card that's similar to the Suica one in Japan but has one advantage: you actually have to pay less for a train ride if you used the card instead of a ticket.
Using the subway, there were only a few problems:
The train was so loud that there was no way to understand the announcements
The displays only showed commercials
I didn't learn the Korean alphabet before.
Other trains are more modern showing station names in a romanised and Korean version. A boy was quite fascinated when I played a bit with my iPod touch in the subway. The touch really is an intercultural ice-breaker, I guess 😉 I use it mainly to learn some Korean phrases, like Annyeonghaseyo (hello) or gomapseumnida (thank you).
Salesmen (and women) can be found inside the train stations and on the trains as well. They sell gloves, music, magazines etc. Most of the stands inside the trains stations had a flea market feeling. Business is everywhere and just like there have been salesmen in the subway, there are people often offering their limited goods outside. I don't know how they can make a living out of it and I wouldn't buy fresh fruits from a store that's right next to big street.
Some people already know that I have a Yen Won for nice, free galleries. And I already found two of them near Anguk. One of the shopping streets is really catered for tourists with numerous souvenir shops. Just in case that you want to walk home by foot, there is a nice guide near Gyeongbok palace. Oh, it's only 1150 km to Tokyo! Guess I'll save my return flight then…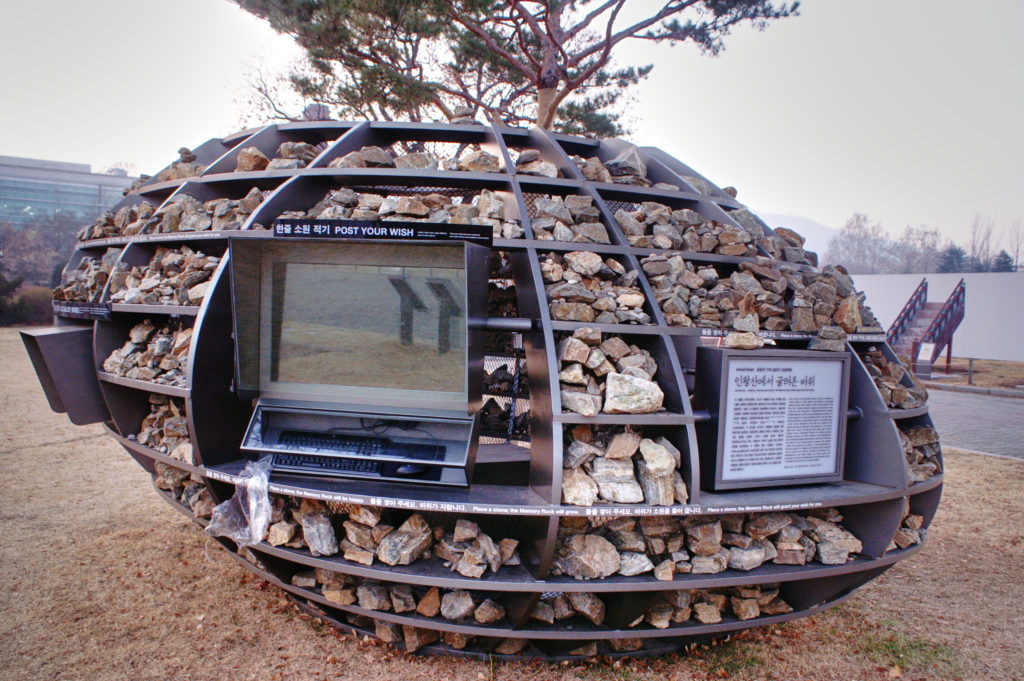 By the time I reached Gyeonbok Palace, it was already closed for visitors so I could only watch it from the outside. There were some things to photograph however, and with the late-christmas-craze in full swing, there was plenty to see in the city as well. I ate in a Chinese restaurant and the first question by the waitress was whether I was able to speak Korean. "Only four words" was my reply. Still more Asians should ask that instead of bubbling out garbled sentences of English assuming that all foreigners can speak English.